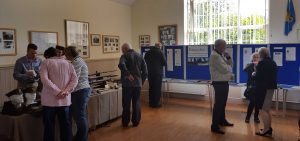 Sunday 23rd April saw large numbers of the community attending the village hall in Kingsley for the launch of the All the Kingsley Men book which is the final chapter in the project's timeline.
The village hall was at times quite full and it's estimated that between 150 and 200 people attended the event.
As before, Martin Clewlow's display of period weapons, uniform and artefacts gave a tangible link to the past and allowed people to better understand what the servicemen in the war experienced.
The Churnet Valley Living Landscape Project was on hand to record people's history of the valley and were constantly busy from start to finish.
Almost 175 copies of the book have gone already and a good number are on reserve for donation to libraries, archives and the like, as well as those held for people who were unable to attend.
However, there are still copies to be had and anyone wanting to get a copy can message the project from this website.
As previously stated the books were free but we were suggesting a donation in return, with the money raised going to the Village Hall, St. Werburgh's Church, Kingsley Holt Chapel and Royal British Legion. We were delighted that at the end of the day donations totalled in excess of £579 with more to come in. A fantastic gesture by all those who contributed having got a copy of the book.
Here are a few more photos of the day and more will be published in the coming days.