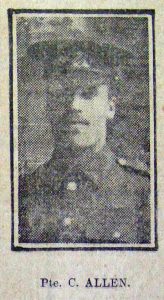 Charles Allen died a hundred years ago today at the Battle of the Somme.
He was true old soldier  having been a reservist at the start of the war and going to France  in the spring  of 1915.
He was quite badly wounded in the late summer of 1915 so much so it was thought he would  not be fit for further service and spent time recuperating in the Channel Islands with the 4th Battalion North Staffordshire Regiment.
It was during this time that in May 1916 he married Mary Ellen Thomas at St Werburgh's and the couple made their home at Back Lane (now Back View) Kingsley.
Charles had a tough life, we have not been able to find who his father was and as a young boy, the family was in the Workhouse in Cheadle.
Despite that he was described as an intelligent and interesting man who on returning to the village had descriptive stories to tell of his experiences in the war.
He was as many of the men who served, a member at the Reading Room in Kingsley which is now better known as the Village Hall.
It is rather apt that a few days before the centenary of his death that a photograph has been uncovered in the Staffordshire Weekly Sentinel and is reproduced here for the first time.
His story can be read HERE