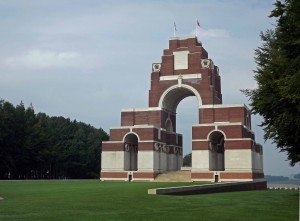 On this date in 1917 the commission was founded by Fabian Ware (initially called the Imperial War Grave Commission) and currently cares for 1.7 million deceased military service personnel in 153 countries across the world.
It has built over 2500 cemeteries since its creation as well as numerous war memorials.
Rudyard Kipling who's own son John died in the war  (and had no know grave although his grave was found in 1992 there is still doubt as to whether it is him who is buried there) said that the commissions work after the first war was
"The biggest single bit of work since any of the pharaohs — and they only worked in their own country" 
26 out of 27 men on our memorials are commemorated on the CWGC site – 3 buried in St Werburgh's are in private graves not tended to by the commission but the church yard is classed as a CWGC cemetery (Rowland Beech, Leonard Edwards (not on any memorial) and George William Hood)
All the others are either in CWGC graves or commemorated on memorials where they have no known grave.
Pictured is the Thiepval Memorial in France where the names of over 70,000 commonwealth service men (mostly British) who have no known grave are commemorated. This site is maintained by the commission and is a reminder of the scale of loss during the first world war.
Four of our men are commemorated on the site – Charles Allen, Isaac Hammond, George Price Bevans and Arthur Keen. They will be featured later this year.
We are grateful for the work and record keeping of the commission. It has helped us on a number of our enquiries to confirm links from a mans name to the man we have traced prior to the war in the parish.