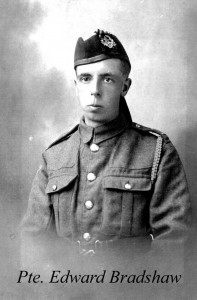 The commemoration events since August 2014 have been all about centenaries, the start of the war, the Battle of the Somme, the Battle of Arras and next year the end of the war.
However, it is also about centenaries of many men's deaths and the latest Kingsley man whose centenary it is, is Edward Bradshaw.
Edward lived at Haste Hill Cottage at the top of what is now Haste Hill Avenue and joined up in early 1916  and found himself serving in a Scottish Regiment.
He was a brave and well-liked soldier and before his death had spent a whole day in a shell hole tending to his platoon commander who had been badly wounded. He was, it is believed in line for an award for his actions but was to lose his left before anything was done and his officer had also lost his life succumbing to his wounds.
Edward continues to be remembered and as you read this his descendant, Janet Walton and her husband Phillip will be at his grave just outside Arras in France.
To read about Edward click HERE for his story and HERE for transcripts of his letters home.