It is hard to believe that its some three months or more since the last update on the website.
However, it is fair to say that in the background we have been really busy concluding our research whilst completing the book. On several occasions, we have uncovered more information requiring a re-write and as I type this there are still two survivors whose family is making inquiries on our behalf and trying to locate pictures.
Since the last update, which was around Remembrance Sunday, we have uncovered a further survivor in James Flanagan. His family has supplied a fantastic life story of a man who served through the war and lost a son at Dieppe in World War Two. We are grateful that they made contact with us and allowed the use of some photos of him and his service that have enriched not only his entry but the book as a whole.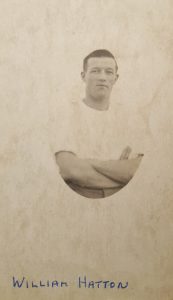 Only last week we met up with two local historians and sourced photographs for the book and of Ernest Stoddard from Kingsley Moor and also the photograph of a man named William Hatton. William lived somewhere near the Bunting off Hazles Cross Road. We think he came to the village after the war but would like to hear from anyone who knows of him.
As is known the project is funded by the Heritage Lottery Fund and a few weeks ago we found ourselves with an underspend on a couple of areas. Following consultation with the Heritage Lottery and the Parish Council, it was agreed that the money would be spent laying the hedge adjacent to the War Memorial.
We are grateful to David Clowes the landowner who agreed to the work being done and last week saw two days of hard work to lay around 15 yards of hedgerow. We are delighted with the result which has opened up the area around the memorial giving fantastic views across the Churnet Valley.
There are a couple of before and after photographs further down this page.
As regards the book we will be publishing, it comprises some 250 pages and records the lives of some 160 men and a woman. We have had a fitting cover designed by a talented photographer and graphic designer and can reveal its to be titled 'All The Kingsley Men'. It will be launched at an event to be held at Kingsley Village Hall on Sunday 23rd April – fittingly St. Georges Day. The book was sent to the printers today and we are eager to see the draft copy early next week. We intend to produce 300 copies.
More details will be released in due course as regards the event and how anyone who wants to get a copy of the book can do so. At a later there will be a downloadable version as well.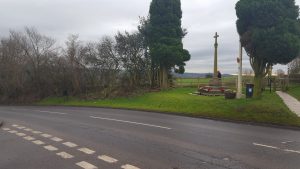 This is the before picture.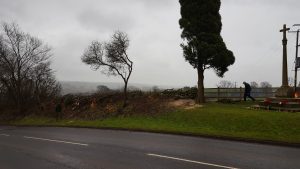 Here is the after picture.