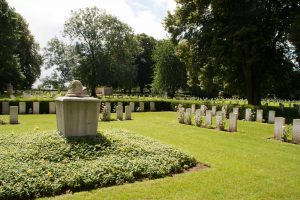 The World War One commemorations that have taken place across the world since 2014 are all about centenaries. Most are about great battles and campaigns but within these events are the centenaries of the death of so many men.
As our project draws to a close with the book launch only days away the 19th April 2017 is a hundred years since George Fallows died as a prisoner of war.
The exact circumstances of his capture and subsequent death are not known but what we do know is that it was not until August of 1917 that his family were made aware and tragically days later his mother passed away.
His family gravestone in St Werburgh's Churchyard bears his name and the fact he died whilst serving.
He is buried in the Cambrai East Military Cemetery in among German and Russian war dead although his section is maintained by the Commonwealth War Graves Commission along with a British Section used after the area was captured by the British.
We have yet to trace any relatives of George or source a picture of him and would be delighted to locate either.
His life story can be read HERE