Petty Officer (Stoker) 285777 – HMS Lookout
George William Hood was born on 9th February 1878 in Kingsley, the son of William (a Coal Miner) and Mary Ann Hood, the 4th of their seven children.  In 1891, George then aged 13 yrs, remained living with his family in Kingsley and was employed locally as a Labourer.  (1891 Census).  Later George was employed locally as a Coal Miner.  (Royal Navy Records).
George William Hood joined the Royal Navy on 13th August 1897, (aged 19 yrs), for an initial period of 12 years, Service No:  285777,  at which stage he was 5 feet 5½ inches tall.  (Royal Navy Records).
In 1901 (aged 23 yrs) George Hood was based at HMS Pembroke, a shore based Royal Naval Barracks, at Chatham, Kent.  During the Boer War (1899 – 1902) he served on HMS Monarch.  In 1909, after 12 years service, he re-enlisted.  During his naval service George Hood served on a number of Royal Navy warships.  (Royal Navy Records).
During WW1 George Hood served on several ships including HMS Lookout. He was most notably involved in action at Zeebrugge and Ostend.  At one stage his ship was torpedoed and he spent 12 hours in the water before being rescued. He suffered greatly from the effects of being gassed. (Press Report). He received a Mention in Dispatches in 1918.
Research indicates that his Mention in Dispatches was announced in the London Gazette on 17th September 1918 for services in 'Monitors and Destroyers of the Dover Patrol' between 1st January 1918 and 30th June 1918. Research is ongoing to ascertain his actions that led to the award. To view the entry click here – MID G W HOOD
According to his record he served on HMS Lookout after the issue of his MID. It would appear he served on HMS Erebus from 1916 until July 1918. This ship was in action outside Ostend and Zeebrugge which are referred to in the press report of his death.
This ship was subject to a attack by a German remote controlled boat that was filled with explosives and literally driven at the ship. The attack occurred on 28th October 1917 and there was damage to the ship with two killed and 15 wounded. This may well be the incident that is referred to in the press report. (www.naval-history.net) In 1918 during the period of his time on the ship it was used in the blockade of Zebrugge.
HMS Erebus saw service in World War 2 and even assisted in the Normandy landings. (Royal Navy records and Wikipedia)
In 1919 George William Hood left the Royal Navy after 22 years service having attained the rank of Petty Officer (Stoker).  His Service Record indicates his discharge was due to a 'War wound'.  (Royal Navy Records).
George William Hood died on 21st June 1921, aged 43yrs, almost 3 years after the war had ended.  A press report on his funeral comments, "Crowds of sympathising onlookers lined the way to his place of interment in Kingsley Churchyard."  His grave is recorded by the Commonwealth War Graves Commission as a 'War grave'.  (CWGC website).
HMS Lookout – 1914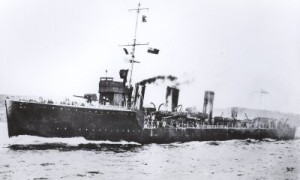 Press Report of G W Hood's Funeral  
George Hood's grave in Kingsley church yard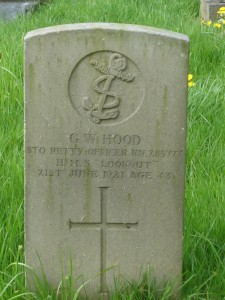 Footnote 1.  Joan Barrow is a descendant relative of George William Hood.  He was her great uncle.