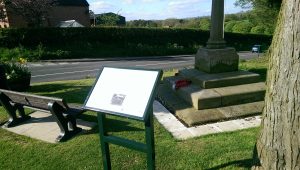 The project team is delighted to announce that an interpretation panel has been installed at the War Memorial as part of the Heritage Lottery funded project.
The panel details the ancient history of Kingsley and the industrial heritage of the parish through to the war memorial and the project. It is hoped that the panel will leave residents and visitors better informed about the area and with a link to the project website publicise the work we have been doing  over the last two and a half years.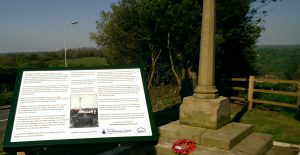 Work around the memorial is now almost complete with just a new barrel planter to be installed and poppies grown from the seed of Flanders poppies planted around the site both of which it is hoped will be completed this summer.
We are extremely grateful to Shelley Signs from Shrewsbury who manufactured the sign and were a great help especially Rachel Shelly.
Please do visit the memorial which is settling down after last years work and is now looking better than ever.