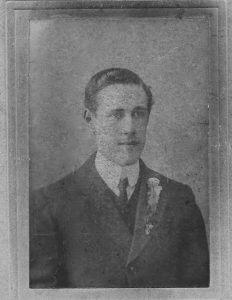 James Henry Wildgoose has been one of the projects most fascinating characters. A man whose surname does not appear to be local, who has no relatives in the area but appears on both St Werburgh's memorial and also on the wayside cross memorial on Dovedale Road.
Our initial enquiries four and a half years ago led to a man from Matlock who was a plumber, we then found references to him and his wife in Kingsley from late 1916 and early 1917.
James who seems to have come to the village in 1916 /17 quickly became active in village life, taking part in farewell parties to men off to the forces, hosting whist drives at the Reading Room (now village hall) and other activities.
At our project launch event, we were told of a local residents mother who as a young girl recalled that her mother as saying how sorry she was for the families two young boys as their father was called up and never came back. We discovered that they lived at Hallcroft on Hazles Cross Road but after James was killed the family moved back to Matlock but clearly some three years after the war he was still remembered and recorded on our war memorials.
Determined to find out more about him, the regimental history of his Tank Regiment was purchased and searches done to track down his family. Finally in 2016 his grandson Stephen was traced to Sheffield and through him another grandson Michael who lives in California.
As a result, we learned how he may have died, why he was in Kingsley and what he looked like.
James died it seems early in the morning when he exited his tank to have a smoke and was shot by a sniper. Why he was in Kingsley is still not 100% clear but what is known is he was not really a plumber. The Wildgoose family owned and ran a large-scale building and plumbing business and its highly likely James was in the village overseeing work as Bolton's where there was an expansion at the factory to deal with the war work coming their way. Its only a presumption but may well be correct.
The date of James' death is unclear, both 8th and 9th May are given from various sources. To read more about James click this link HERE