Private 305952 – Royal Tank Corps (6th Battalion)
James Henry Wildgoose was born on 26th July 1887 at Matlock, Derbyshire, the oldest child of Francis Henry Wildgoose and his wife Jemima. (Christening Records).  In 1891 the family were living at 18 Chesterfield Road, Matlock, at which stage there was a younger sister Bertha.  The family name has been trascribed as Wildgoore on this  occasion.(1891 Census). 
In 1901 the family are living in Industrial Road, Matlock.  At this stage James Henry was aged 13 years, Bertha was aged 11 years, having younger siblings Eva (8yrs), Francis (5 yrs), Charles (3yrs) and Harriot (1yr).  James was recorded as John K Wildgoose on this return. (1901 Census).
By 1911 James Henry Wildgoose, then aged 23 yrs, had married. He and his new wife Annie Wildgoose (nee Cooke), aged 25yrs, were living at 6 Hopewell Terrace, Matlock Bath, Derbyshire.  At this stage he was employed as a Plumber the same trade as his father.  (1911 Census).
Between 1911 and 1915 James and Annie had three sons, John (b 1911), Harry (b 1914) and Ronald (b 1915), all of which were born in the Bakewell area. A Ronald Wildgoose born 1915 was recorded to have died aged less than 1 year in Bakewell that same year.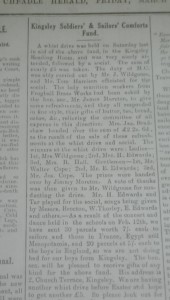 At some stage between 1915 – 1917 James Wildgoose and his family came to live in Kingsley, (for reasons which at this stage remain unknown).  It is believed the family may have lived at Hall Croft, Hazels Cross Road, Kingsley. (Christine Heath). In March 1917 a Whist Drive was held at the Kingsley Reading Rooms in aid of the 'Kingsley Soldiers and Sailors Comfort Fund'.  A Mr J Wildgoose acted as the MC for the whist drive, which was well attended and raised £5 for the fund.  As described in a subsequent press report.  (Cheadle Herald March 1917 Opposite).
James Henry Wildgoose joined the Army in circumstances as yet to be established.  Available records indicate he was formerly in the Royal Engineers, Service No. 285590.  At a later stage he transferred to the Royal Tank Corps, Service No. 305952, 6th Battalion.  It is also recorded that he was in the Machine Gun Corps a forerunner of the Tank Corps. (Medal / Ancestry Records).
War Diary – Royal Tank Corps, 6th Battalion required.
James Henry Wildgoose died on 8th or 9th May 1918 in Flanders, northern France, (there is slightly conflicting evidence as to the date of death).  Records indicate he was 'Killed in action'.  James Wildgoose is commemorated at the St Amand British Cemetery, Nord Pas De Calais, Northern France.  (CWGC Records).
Following the war Annie Wildgoose remarried Harry Brown in the late summer of 1924 in Bakewell.
James Henry Wildgoose is commemorated on the Matlock Cenotaph alongside his brother Charles who died of wounds on 18th March 1918. Both are also recorded on their parent's headstone in Matlock Cemetery.
Efforts have been to trace more of James Wildgoose's life and residence in Kingsley. Clearly his stay was short but he made an impact for people to recollect the family. His children were born in Bakewell so the supposition is that between 1915 and 1918 he moved to the village. Quite what he was doing in the village is unknown but as a plumber he may have moved to the area to work or being employed at Froghall.
His war record does not survive and attempts are being made to locate his battalion war diary. There was no election in 1916 but there was one in 1918 and the relevant voters register has been researched. It shows that registered at Hall Croft for that register was Edward and Priscilla Carr. In the 1911 census it was a family called Beardmore. The assumption being that on being called up Mrs Wildgoose and the two boys left the village. Certainly John born in 1911 was or school age in 1917 so his attendance would be recorded at St Werburgh's School. Efforts are being made to locate the attendance register for that period.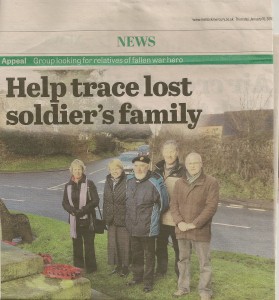 The search for the family of Wildgoose has even reached the pages of the Matlock Mercury who featured the story earlier this year. We heard from a distant relative but unfortunate they had no information to assist us. Both of James' sons died in 1977 and 1985 respectively. However efforts continue and we will update the site as and when we have more news.