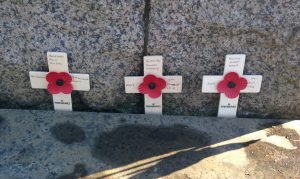 As the war drew into its final year so the casualty rate increased as more and more men from the parish found themselves in the armed forces.
Indeed between the early part of 1918 and the wars end at least 20 more men joined up. Many did not see active service and were soon demobbed back to civilian life.
From December 1917 when Roland Burston died and the end of the war in November 1918 8 men died as a result of their service and a further 4 at least would die in the years after.
James was 22 years old when he signed up in 1915 and was mobilised in May 1916. Prior to this he was a farm worker and following the death of his mother and grandmother his next of kin was his uncle James Thompson and aunt May who lived at 12 Church Street Kingsley.
The Thompson's had 9 sons and one John served in the latter stages of the war.
James was posted to a siege battery unit and in May 1917 he was wounded suffering a severe chest wound. Remarkably he was back fit for action in 3 weeks and allocated to the 154th Siege Battery.
He had leave over Christmas and it is assumed returned home to Kingsley before returning to his unit in the New Year. On 19th January 1918 he had fallen ill and  was taken to a Casualty Clearing Station where he died at 1050am on the following day due to septicemia.
Such was the slow pace of news reaching home, on 8th February the local papers were reporting he was very ill.
Recently the project has been contacted by Cathy Thompson who's grandfather was Leonard Thompson born the year after James and of course his cousin. Cathy knew little of her wider family let alone James and we are delighted that our work had shed some light on their history.
She lives in Scotland and placed a Poppy Cross at her local war memorial at Tarbolton in South Ayrshire on the last Remembrance Day. She also placed crosses in remembrance of another relative Rupert Birch from Foxt who died in WW1 and a relative of her partner, Phil Allen who lost his life in Afghanistan.
To read James' story click HERE