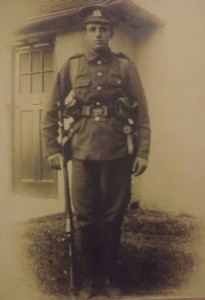 Private 11115 – Leicester Regiment (6th Battalion)
This months focus is on James Poyser who died 99 years ago this year.
James Poyser was born on 19th August 1892 the son of Isaac and Sarah Ann Poyser, the second of their eight children.  The family lived at 27 Hazles Cross Road, Kingsley, later living at Kingsley Cross, Kingsley, (possibly a different address).  As a teenager James was employed as an Ironstone Labourer. (1911 Census).  Prior to enlistment he was employed by Podmore's at Consall Forge working lime and coming home with the well known 'red eye'. After that he was employed by Hartley's Minerals in Kingsley as a Carter.  (Army Records and family history).
James Poyser joined the British Army on 27th August 1914, aged 22 years, as part of 'Kitchener's First New Army'.  Service No. 11115.  His medical records on enlistment describe him as being 5 feet 8 inches tall, weighing 10 stone 2 pounds.  He was 'Fit for service' and was posted to the Leicester Regiment, 6th Battalion.  He underwent initial army training was at Aldershot Barracks. (Army Records).  
On 29th July 1915 James was posted to France as part of the British Expeditionary Force, forming part of the 110th Brigade, 37th Division, (Army Records).  The Division were deployed in the Nord Pas De Calais Region in Northern France, the scene of heavy trench warfare on the Western Front, (Wikipedia).
In December 1915 James Poyser had chilblains. (Army Medical Records).
James Poyser was killed on 18th March 1916, records indicate he 'Died from wounds received in action'.  (Army Medical Records).
Leicester Regiment War Diary for this period has been acquired but unfortunately does not shed any light on James Poysers death. The fact that he died as the result of wounds received suggests that he was wounded initially. This is confirmed by his record which states his death was reported by the 48th Field Ambulance who were attached to the Leicestershire Regiment.
During the period leading up to his death the battalion was in the front lines and then spending time recuperating in the reserve area. There appears to have been little offensive actions with both sides resorting to shelling of each other with both small and large caliber shells as well as grenades which gives an indication of how close the two sides were. Several injuries and deaths were occasioned by rifle and sniper fire.
Unusually the diary records the name, rank and numbers of ordinary soldiers wounded or killed, something that rarely happened. However the monthly tally seems not to match up to what was recorded in the diary in terms of names. It is likely that James Poyser was wounded in the trenches either by rifle fire or from shrapnel or similar from an exploding shell.
News  of his death was reported by both his commanding officer 2nd Lieutenant G M Gillett who commented on the fact that James Poyser had been with him since the commencement of the war and was a trusted soldier. A letter was also received from the Army Chaplain who had conducted his funeral service.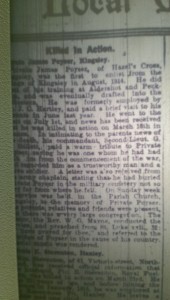 This was all reported in the Staffordshire Weekly Sentinel dated 22nd April 1916 when details of a memorial service held at St Werburgh's were reported. That same report stated that James Poyser was the first man from the village to enlist in August 1914 and had worked for Hartley's Minerals before the war. (Left)
James Poyser is commemorated at the Humbercamps Communal Cemetery Extension, Pas de Calais, Northern France. (CWG Records).
A surviving relative of James Poyser is Margaret Harvey who lives at The Cottage on Hazles Cross Road. She is the daughter of James' younger brother John William Poyser. The home she lives in is the home that James lived in prior to joining up. As well as a picture  of James she has his 'Death Penny' and scroll which are below.
Footnote 1: Sadly 2nd Lieutenant George Maurice Gerald Gillett who rose to the rank of Captain was also not to see out the war. He was killed by a shell on 26th September 1916 during the battle of the Somme. He has no known grave and is commemorated on the Thiepval Memorial.
Footnote 2: Pictured below is a photograph of a Hartley's Minerals delivery wagon and horses. The man sitting on the wagon is Mr Hartley and the man holding the horse is in fact a brother of James Poyser Frederick. (Family)