Last month saw the final donation of monies raised from 'sales' of the book when authors Ken Unwin and Martyn Hordern handed over a cheque for £301 to the Reverend Andrew Farrington at the chapel. The book has now all but sold out with just two copies left out of a print run of 300.
It was somewhat fitting that the donation took place during the chapels 80th  year celebrations. However, the event was significant for more than one reason as Martyn Hordern's great, great grandfather was a member at the old Chapel from 1870 to his death in 1918 and performed numerous roles including steward, Sundays School Superintendent, and caretaker. His funeral was held at the chapel and his former home was up the lane off Shawe Park Road.
The winter will see further research on some 20 men who have been identified as having served in the latter stages of the war as well as developing further information obtained the book launch. Whilst there will be an Ebook published next year that will in effect be a second edition it's unclear if there will be a further print run at this time.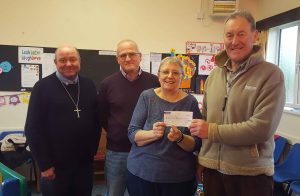 Pictured are Ken, Martyn, Andrew Farrington and members of the church. A picture of the old chapel is also attached.