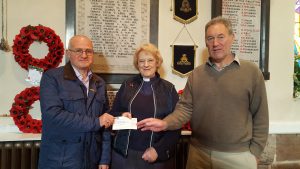 Saturday 26th October saw the latest donation of monies raised from donations given for the book when a cheque was presented to Reverend Carole Richardson. It was quite fitting as  it was one of Carole's last days as the Vicar of St Werburgh's prior to her retirement.
We wish her well.
We also recently referred to the son of survivor Jim Flanagan being killed at Dieppe in 1942. George's story is a fascinating one and we are delighted it has received recognition being selected as the letter of the month in the Britain at War magazine. Click on the image to the left to open it in a separate tab.
We are currently down to around 5 books or so left.
Our second copy to the United States arrived the other day and we are once again delighted to receive positive feedback for the book this time from a relative of Basil and Thomas Ferriday who's father Moses, was both the Headmaster of St Werburgh's and also the organist at the church.
'The book arrived safely yesterday and I'm so pleased I asked you to send me a copy. I've only had opportunity for a quick look so far but I am very impressed …it's attractive, easy to read and you have obviously researched thoroughly and reported accurately!
I was intrigued by the mysterious James Moss and my brief research so far has confirmed what a good job you've done….I thought he might be connected with the Moss-Simpson and Mycock folk who moved to Buglawton, Cheshire but I found a lot of James Mosses and little to draw any conclusions from. This brief exploration has shown me just how much work you must have done!'
Congratulations!