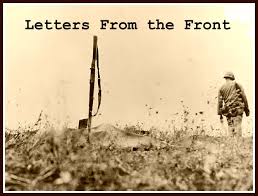 Previously we have been able to reproduce letters written by Edward Bradshaw from the front transcribed by his relatives and who were kind enough to allow us to reproduce them on this site.
Some time ago we were given copies of letters written by Ernest Upton to his family. We were given them by a great friend to the project John Crosby who had come into their possession some while ago.
A volunteer to the project Pauline King, sometime of the Dordogne in France or Bristol in the UK has kindly agreed to transcribe them for us. The punctuation and grammar etc are all as set out in the letters.
As Pauline transcribes more of the letters we will continue to publish them – a big thank you to her for doing this.
Private E Upton
No. 12267 B Coy
9th North Staffs Pioneers 37th Division
BEF France
9th August 1915
Dear Brother,
just a few lines hoping this will find you all in good health as it leaves me. I am going on very well at present. I am sorry I have not written before, but on this job it's all moving about and it does not give as much time for writing. I wrote two letters to you not long ago but got no answer perhaps you did not receive them. I am addressing this to the works so this will come alright. We have gone a long way up the country since we landed on this side in fact we are close to the firing line now and can hear the big guns quite plain, they light the sky up at nights. I don't think we shall go into the trenches for a week or so yet of course I cannot tell you the names of any places I have been to or where I am now. All our letters are read before posting. I get on very well with the French people. We make one another understand some how. There us very few French men round here I expect they are all fighting. Women seem to do all the work in corn fields and with horses. I cannot write about things as I should like to do, it would get crossed out if I tried or maybe the letter would not come at all. I shall be glad when the war is over, soldiering over here is quite a different thing to soldiering in England in a great many ways. Remember me to Belle and the children. Tell them I hope to see them again some time. I would give some think to in England now with a good pint of beer. Remember me to Will Mould when you see him. I must close now so no more this time with love to you all.
E Upton
The address given will find me anywhere this side.
Aug 16 1915
Dear Brother and Sister,
Just a few lines hoping this will find you all in good health, as it leaves me. I am going on very well at present, I was pleased to get your letter and parcel of bacca today Monday and am pleased to hear that you are going on all right. It bucks a fellow up a bit out here to get a letter from relatives and friends. There are some poor fellows here waiting at every post and no letter for them it seems hard. I expect they have no one to write to them. We are still at the same place just behind the firing line making and repairing trenches, we are safe enough that is if a stray shell does not blow us and the trenches up, there a fine noise day and night with the big guns, more so at night time. They do most of the fighting at nights. I was very pleased with the bacca. I was about to run out and was wondering how I should go on. But when you write again don't send any bacca I think I shall be able to go across to my mates in the A.S.C this week and I know if I can get there I can have a pound of bacca. You see our kit gets knocked about a lot and I carry all my bacca with me. It would not do to get a big stock in. Thank you all the same but don't forget to write. There's one thing that troubles me here that is the shortage of water. We get a drops in a tin and about three hundred wash in it, what with soap and dirt it's a treat you could cut it with a knife. It is very hot over here it it goes cold at night. We have no blankets only a waterproof kit and our coats to cover us. We have had a few hours heavy rain today Tuesday of course that does not stop work the weather does not count in this job. You must ignore the date on the letter, this is the third go I have had at it. I think I shall about bring it in for tonight's post Wednesday. Remember me to the children tell them I shall be popping round some of these next days. I think Luton Lilcocks as had a very good run. I quite thought he would have been caught a long time ago. I should have a drink I think if I had been at home. By jove Jack's up to date with the address on envelopes I wondered what Laura was writing to me, I must close now so no more this time with love to you all E Upton
I cannot write as I should like to do we are not allowed to name places or tell any particulars so you see I hardly know what to write about
Pauline's comment on doing this latest letter was – " I like this one – you see how he is talking about the fighting as if someone else is doing it, like he isn't involved at all. Interesting!"
You can read about Ernest Upton HERE