An enjoyable part of the project has been making acquaintances with other researchers and those with an interest in the militaria. One such person is Martin Clewlow from Tean who provided a fantastic display of artifacts at our project launch in September 2014.
Following our article on Moses Holland Martin has been kind enough to provide information regarding the picture of Moses and also the wooden tipped bullet that is with his papers and the photograph.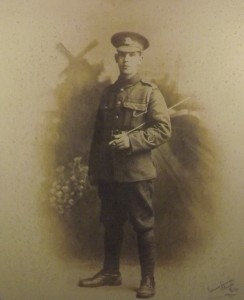 Worn on the left sleeve of Moses jacket are two badges. The first one is a grenade badge that was worn on the sleeve as a proficiency badge by men trained as 'bombers' (hand grenade throwers), and also 'Light Trench Mortars'. The Former were part of the infantry, the latter were Royal Artillery but staffed by attached Infantry men. The only difference in the badges apparently is the colour, blue or red.
The lower badge is very hard to make out, but it is in the style and position of a 'trade' badge. The closest I can find is that of the Lewis Gunner, a stylised "LG" above a laurel wreath.
Bullet:
Inert rounds were supplied for use for rifle drill and while training etc. These were standard .303 cartridges with wooden dummy bullets inserted. The primers were normally omitted from the other end, and a small hole drilled through the cartridge to denote it was inert.
We are grateful to Martin for this update which suggests that Moses was trained as a bomber or mortar operator and also as a Lewis Gunner.