Up until the present time the only real tangible evidence of the project has been this website and the results of our research.
However that all changed on Thursday 23rd July when the existing stile at the Memorial on Dovedale Road was replaced by a new wooden kissing gate. The gate was supplied free of charged by Staffordshire County Council.
The project are grateful to Helen Anderson (Support Staffordshire ) and Richard Whiting Projects Officer for the Churnet Valley Living Landscape Partnership. Helen and Richard assisted in arranging and supplying  the volunteer labour to install the gate.
We are also very grateful to land owners David and Josie Clewes who have allowed the gate and the fence that will follow soon to be sited a metre or so onto their land to enable the landscaping works to be completed.
We hope that the work around the memorial will start soon and be completed for the years Remembrance Day at the site on 11th November.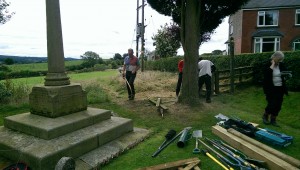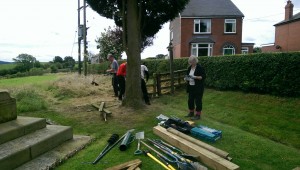 Here are a couple of photos taken as the work was just starting. To keep up to date with the project make sure to subscribe via your email address on any page with the subscribe box on it.