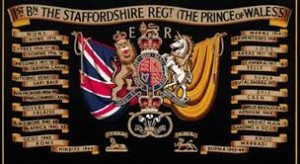 On Thursday 19th February two of the project team members, Martyn Hordern and Ken Unwin traveled to the Staffordshire Regiment Museum at Whittington Barracks as part of the teams work into researching those on our memorial.
Around ten or so men served or started their service with the North or South Staffordshire Regiments (as they were then) with some doing their training before being transferred to other regiments often following heavy loses in France.
The day was informative and we were left reassured that our research is on track as we did not find anything we had missed so far.
One piece of interesting news was that Charles Allen and Isaac Hammond who both died on the Somme in 1916 were on the roll of the 1st Battalion of the North Staffordshire Regiment in 1914. Their service numbers suggest that both had been in the army before the war more than likely as Territorial's.
The Territorials before the war were intended for service in the UK only so more than likely they volunteered for service overseas. Both men will be featured on the website later this year.