Lieutenant. East Kent Regiment. (The Buffs) – Updated 8th February 2016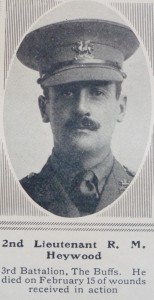 Robert Myles Heywood was born on 1st  February 1884 in Manchester  the only child of Robert and Annabel Crook Heywood, latterly of Hales Hall, Cheadle, Staffordshire.
In 1891 the family were living in Rushulme, Lancashire. Robert senior is described as a Cotton Bleacher / Dyer and already the family are doing well as they have three servants.
In 1901 at the census Robert Myles Heywood is shown as a boarder at an address in Frodsham Lordship Cheshire. His father is shown as residing at The Cottage Entwhistle, Lancashire. They had a husband and wife as general servants.
Annie Heywood as she is recorded throughout the census returns is shown as a visitor at Moor Court in Oakamoor the then home of Alfred Bolton JP for Staffordshire. She is one of two visitors the other being an electrical engineer. Francis Bolton son of Alfred is recorded as being a copper smelter,  this being  Bolton's of Froghall family who built the now listed building in 1861. There are six servants in the household.
In 1911 the census shows the family at Hales Hall in Cheadle. Robert senior is described as 'own means' suggesting wealth and they have 5 servants. There is no reference on the return for Robert Myles Heywood. However there is a Myles Heywood shown as resident at The Links Hotel near Cromer in Norfolk. His place of birth is given as Manchester and his age given as 27 years. His occupation is given as none.
According to his service record held at the National Archives on 8th August 1914 he applied to join the The Buffs. His attestation paper gives his education as being at Charter House and Christ Church College Oxford. He again has no occupation and gives his address as Hales Hall Cheadle but also gives a correspondence address as 13 Mill Field in Folkstone. He seems to have few qualifications but does say he can ride. He signs his name as R Myles Heywood.
In September 1914 Robert Heywood was gazetted as a Second Lieutenant in The Buffs (East Kent Regiment). He was initially posted to the 3rd (Reserve Battalion) which was a training unit supplying troops to the 1st and 2nd Battalions in France. The 2nd Battalion had at the outbreak of war been in India and they travelled back to Britain. They arrived in France in January 1915 and it is assumed that Robert Myles Heywood travelled with them or joined shortly after. His medal card does not date his entry into France but states 1.15 which is assumed to be January 1915. He was promoted to full lieutenant in the days before his death.
On 8th December 1914 Robert Heywood married Barbara De Hoghton (daughter of Sir James Hoghton and his wife Aimee Jean Grove), of Hoghton Tower, Preston, Lancashire. Barbara's brother Vere was killed in France in October 1915 whilst serving with the Lincolnshire Regiment.
By February 1915 the unit was in Ypres area and involved in daily fighting and suffering casualties. On 14th February 1915 the unit were in and around the Chateau Rosendal south of Ypres near St Eloi and in action from  the early afternoon when with the East Surrey Regiment an attempt was to be made to retake a trench lost the day before.
The East Surrey's suffered early losses and the Buff's moved up under cover  of artillery fire to provide cover. By 5pm it was growing dark and the Buffs came across an East Surrey officer whose platoon had been 'wiped out'. Acting as their guide they moved towards the German trench but were soon struggling against barbed wire and in the darkness it looked like they might miss their objective and rush head on into the main German defences.
A decision was made to retire to the canal line and then to the Chateau Rosendal itself with an attack planned for the following day.
During the attack the Buff's suffered 1 officer killed, 2 officers wounded with 6 other ranks killed and 23 wounded.
The  officer killed was Lt Robert Myles Heywood who at that stage had been at the front for no more than a month. From other records we believe that Robert Myles Heywood was wounded in this action and died the following day albeit the war diary entry records the death on 14th February it is highly likely the entry was written the day after the action and after his death. This is confirmed by his service record which gives the cause of his death as a gun shot wound to the head. His place of death is recorded as Number 3 Casualty Clearing Station at Poperinghe on the 15th February 1915. Records held by them show he was admitted on the day he died but alongside his name is written 'death'. The station was around 20 miles from the front.
A newspaper report at the time states that he was leading the attack after the two senior  officers had been wounded.
He is buried at Poperinghe Old Military Cemetery. Tragically Robert's death occurred just over two months after his marriage. His death was notified in a telegram sent to his wife a copy of which remains on his file.
Most of his service record has been weeded to leave matters appertaining to his death and the execution of his soldiers will. It seems in his will he wrote of matters regarding the military position surrounding him at that time. This caused some issue and it was agreed it would not be published other than the relevant sections. What he had written can only be speculated up on.
Robert Heywood is commemorated at the parish church of St. Peter and St. Paul, Charlton, Dover, Kent, on the Kingsley, Staffordshire, civic war memorial, on the tablets in St Werburgh's Church Kingsley , and in Christ Church Cathedral, Oxford.
He left an estate valued at £1444 15s which equates to around £145,000 today.
During the war both of his parents remained active in public life, Annie Heywood was involved in various fundraising events at Hales Hall including those for the Red Cross. Robert meanwhile was in 1917 elected as a local Magistrate. (Cheadle Herald)
On 22nd April 1917 a war shrine the gift of Mrs R Heywood was dedicated in the porch at St Werburgh's by the Reverend Mayne. The shrine was quite substantial being made of Oak with a crucifix underneath. There was space at the bottom for two vases into which the names, dates and places of the parish's war dead could be placed written on slips of paper. The report of the event stressed that it was not just a shrine to Robert Myles Heywood but to all of Kingsley's fallen. The report then listed those who had died from the village up until that point the last one being Thomas Clowes the previous year. (Cheadle Herald).  
Ernest Upton had lost his life on 9th April 1917 and George Fallows on 19th April 1917  but it would appear that the news had not yet reached home.
The location of the war shrine is unknown at this time.
Whilst conjecture to some degree this report shows that the Heywood family even before the war's end had an affinity with the village of Kingsley. The Reverend Mayne was very active in various committees (including the Reading Room in the village – the present day Village Hall) and one was the War Tribunals in Cheadle where men could defer war service through appeal. He may well have come into contact with the Heywood family through his work.
After the war Sunday 20th February 1921 months before Robert Heywood senior died a 'wayside cross' memorial was paid for by the Heywood family in honour of their son and erected on Dovedale Road as it is now in Kingsley. Both Robert Heywood Snr and his wife Annie Heywood are buried at the south end of the church yard overlooking the memorial to their son.
Why Kingsley was chosen as the site is at this time unknown. A contemporary report was filed in the a local newspaper and a transcription has been obtained although the actual entry in the paper has yet to be found.