The Shrouds of the Somme is a long-running project to commemorate those lost on the Somme in 1916.
Initially, it commemorated the almost 20,000 men killed on the first day of the battle a figure never surpassed before or since in terms of the loss of men killed in one day. The overall casualty figures were in excess of 57,000.
This took the form of miniature figures wrapped in a white shroud that were displayed in Bath and elsewhere around the country.
It has now developed to commemorate the some 72,000 men on the Thiepval Memorial who have no known grave – the 'Missing of the Somme'
To read more of the project click the image here –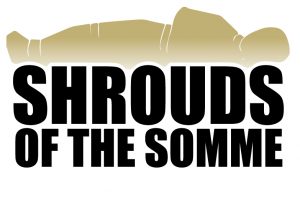 The Shrouds project has now joined forces with the Commonwealth War Graves Commission to gather as many stories as possible of the men who died and have no known grave. Kingsley has four such men and we have previously supplied their stories to the Missing of the Somme project and have now done the same to the Shrouds of the Somme.
The men are Charles Allen, George Price Bevans, Isaac Hammond and Arthur Keene.
To read each man's story click on the links and you will be taken to the CWGC site where you can put the men's name in and search – sadly at present there is not a unique web address for each man.
CWGC Shrouds Site