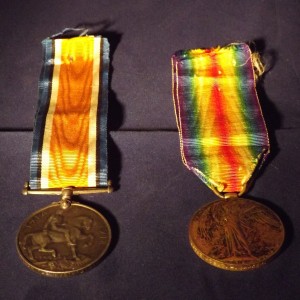 At the project launch event on Sunday 21st September 2014 the project team were approached by Hilary Corby a local resident.
She had seen that we were at that point unsure who Thomas Barker was.
Our research had narrowed it down to two possibilities. As it happened family of Thomas Barker came forward and identified which of the two was our man.
However Hilary had in her possession two medals, the British War  and  Victory Medal. Engraved on the rim of each medal was Private 50252  T H Barker North D Fusiliers. Hilary had not recollection how she had ended up with the medals and was curious as to who was this Thomas Barker.
We had a name, a regimental number and a regiment but who were the North D Fusiliers? After some research looking at various bits  of information our man was found.
He was Thomas Henry Barker who was in the Northumberland Fusiliers and died on 5th June 1917. The North D bit came from his medal card which was the reference point for the engravers and due to lack of space came about from shortening Northumberland.
Checking on the Commonwealth War Graves site his place of commemoration  was given as Arras and he was 25 years old. He has no known grave.
His parents were listed as Edward and Matilda Barker of 60 Oxford Street Sandford Hill Longton (since renamed Merton Street) Thomas is also commemorated on the Longton Cenotaph.
We then set about finding out who he was and how Hilary had his medals.
Later census returns showed the family in the Longton area however the 1881 census showed Edward and Matilda Barker as living at the Golden Lion, Far Lane  in Ipstones along with his parents and other family members. Edward's birthplace was recorded as Tunstall and Matilda as Kingsley.
Fast forward to 1911 and the Census of that year when Thomas was aged 20 but still at home and single. He had two brothers and three sisters who also were still at home. The family lived at 4 Wedgewood Street with all the brothers working in the mines and the sisters within the pottery industry. The eldest sister was Ada Barker.
Further research shows that Edward and Matilda married in Ipstones in on Christmas Day 1880. Matilda's maiden name was Forrester.
Matilda Forrester was born in around 1860 in Kingsley and in the 1871 Census she was living with her parents Thomas and Fanny. She was the eldest daughter of 4 girls with two brothers. Her 14 year old brother mined with his father. The other children were in school.
They were still in Kingsley as a family in 1881 but no street name was recorded on either census it was just recorded as the 'village of Kingsley'
However by 1891 Fanny (Frances) was living with a 16 year old daughter Minnie in Leek and Thomas has passed away in the intervening years. Fanny was living along in 1901 except for a 16 year old boarder and died in 1907 in Leek aged 70 years.
When this information was passed onto Hilary she immediately knew what the link was. Ada Barker the sister of Thomas became Ada Swinson and known to Hilary as Aunt Ada.  Ada married Charles Swinson in 1911 and died aged 80 in 1966.  Ada's son Reg never married and lived in The Green Kingsley until his death. After his passing Hilary who was related to him through marriage came into possession of several of Ada's possessions and in a handbag were the two medals.
We know that in 1916 Thomas joined the army, as a miner he would be exempt from war service but may well have volunteered. He joined the Staffordshire Regiment first but as often happened was transferred to the Northumberland Fusiliers probably as a replacement
How did Thomas die? Well his battalion war diary has been researched and whilst previously names of the fallen had unusually been fairly comprehensively recorded by June 1917 all was shown were numbers of dead, wounded or missing.
On 5th June 1917 the battalion moved into the front line to attack the German trenches in the Arras area. The attack was made by three battalions of the Northumberlands and  started at 8pm that night and very soon heavy machine gun fire was being received, one platoon especially was decimated with just one officer and two men left. Heavy fighting continued overnight with some ground gained but the German's counter attacking. Aerial reconnaissance was used and further ground gained.
Overnight of 7th and 8th June the battalion retired having been relived. German dead and wounded was put into several hundreds and around 200 prisoners were captured during the overall operation.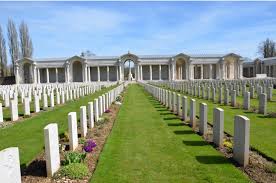 However the losses  suffered by the attacking British were heavy  – the Brigade lost 10 officers and 61 other ranks killed, with 14 officers and 463 other ranks wounded. Listed as missing were 1 officer and 188 other ranks. Among these casualties was Thomas Henry Barker who was listed as killed in action on 5th June. Quite how he died is unknown but the assumption is that he was killed during the early attacks possibly by machine gun fire.
Pictured is the Arras Memorial which has the names of over 20,000 men with no known grave.