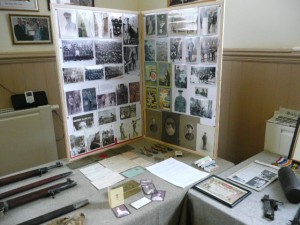 One aspect of the project that we have wanted to do is to try to list all those men who served and survived the war. Some say they were the lucky ones but many came back will both physical and mental scars.
The dead men are easy enough to research, there are monuments to them and they were often in the paper or known about locally over the generations. However many did not talk about their experiences and their names were lost as they passed on.
Using a number of resources we have drawn up a list of at least 103 men with links to the village who served and survived the war.
Some we have quite a bit of information on, men like James Millward, Arthur Carr and brothers Frederick and Ernest Capewell, others as you can see from the list below are just a name and an initial.
Sadly we do not have the capacity to devote as much time as we have to the 28 men who died during the war but we will do some research to try and give a full name and a regiment where possible.
If anyone has information on these men here or indeed on anyone who served from the parish and is not listed here  then we would welcome any information regardless.
Please do bear in mind that this is far from a complete list as in 1918 the Rev Mayne stated that somewhere near 150 men had served on active service with more in training.
With the 28 men and the list below we have 131 so there is upwards of 20 plus men absent from our research.
| | | | | |
| --- | --- | --- | --- | --- |
| | Rank | 1st Name | 2nd Name | Surname |
| | | | | |
| 1 | | William | | Adams |
| 2 | | Charlie | | Alcock |
| 3 | | Rupert | | Alcock |
| 4 | | William | | Baker |
| 5 | | James | | Barker |
| 6 | Private | Joseph | | Barker |
| 7 | | J | H | Beardmore |
| 8 | | Frederick | | Bettany |
| 9 | | Wilfred | Harrison | Bentley |
| 10 | | Gordon | | Billings |
| 11 | | Horace | William | Birch |
| 12 | | Horace | | Birke |
| 13 | | Joseph | | Bloor |
| 14 | | Samuel | | Bold |
| 15 | | James | Frederick | Booth |
| 16 | | Harry | | Booth |
| 17 | | Thomas | William | Bradshaw |
| 18 | | W | J | Bradshaw |
| 19 | | Charles | | Bridgett |
| 20 | | George | Shaw | Bridgett |
| 21 | | Edward | | Bromley |
| 22 | | Percy | George | Bromley |
| 23 | | George | | Buckett |
| 24 | | George | | Burnett |
| 25 | Gunner | Arthur | | Campbell |
| 26 | Private | Ernest | | Capewell |
| 27 | | Frederick | | Capewell |
| 28 | | Fredrick | | Carnwell |
| 29 | Private | Arthur | | Carr |
| 30 | | Lewis | | Chell |
| 31 | | Harold | | Coates |
| 32 | | Frederick | | Cope |
| 33 | | Francis | William | Critchlow |
| 34 | | John | Abraham | Edwards |
| 35 | | Basil | | Ferriday |
| 36 | | Thomas | Bennett | Ferriday |
| 37 | | Joseph | | Forrester |
| 38 | Driver | Earnest | W | Gibson |
| 39 | | George | | Gibson |
| 40 | | Thomas | William | Gibson |
| 41 | | William | | Gibson |
| 42 | | Frederick | Arthur | Goodwin |
| 43 | | G | | Goodwin |
| 44 | | J | | Goodwin |
| 45 | | William | Allen | Goodwin |
| 46 | Driver | E | | Gibson |
| 47 | | T | | Gibson |
| 48 | | Willie | Roy | Griffiths |
| 49 | | Charles | | Hall |
| 50 | L/Cpl | George | | Hall |
| 51 | | James | Arthur | Hall |
| 52 | | George | William | Hammond |
| 53 | | George | William | Hammond |
| 54 | | James | | Hammond |
| 55 | | John | | Hammond |
| 56 | | Ralph | | Hammond |
| 57 | | Reginald | | Hammond |
| 58 | | Thomas | | Hammond |
| 59 | | C | B | Harrison |
| 60 | | W | H | Harrison |
| 61 | | Albert | Abraham | Hathaway |
| 62 | | Edwin | | Holland |
| 63 | | Charles | | Hulland |
| 64 | | Charles | | Johnson |
| 65 | | Fredrick | | Johnson |
| 66 | | Stephen | | Johnson |
| 67 | | William | | Johnson |
| 68 | | H | | Mellor |
| 69 | | William | | Millward |
| 70 | | Alfred | | Millward |
| 71 | | Bertie | | Millward |
| 72 | | James | | Milward |
| 73 | | George | | Moseley |
| 74 | | John | William | Moseley |
| 75 | | Frank | Gilbert | Nadine |
| 76 | | Lewis | | Nicklin |
| 77 | | Fred | | Owen |
| 78 | | Herbert | | Owen |
| 79 | | William | Arthur | Owen |
| 80 | | William | Earnest | Pawson |
| 81 | Private | | | Paterson |
| 82 | | Earnest | | Pegg |
| 83 | | Frederick | | Rowley |
| 84 | | George | Edmund | Salmon |
| 85 | | C | | Seabridge |
| 86 | | Frank | | Shaw |
| 87 | | Arthur | | Smith |
| 88 | Seaman | A | B | Smith |
| 89 | | John | William | Smith |
| 90 | | T | R | Smith |
| 91 | | William | | Smith |
| 92 | | Earnest | | Stoddard |
| 93 | | Thomas | | Stoddard |
| 94 | | J | | Thompson |
| 95 | | William | James | Thorley |
| 96 | | John | | Welford |
| 97 | | Jessie | | Weston |
| 98 | | Charles | Richard | Whieldon |
| 99 | | E | | Whitehurst |
| 100 | Rifleman | E | | Woodward |
| 101 | | T | | Wright |
| 102 | Stoker | Derwent | | Wardle |
| 103 | | Richard | Enoch | Wood |