Whilst this project is mainly focused on researching the deaths and lives of the 28 men on our memorial it also has a lesser but equally important aim to record those men who served and survived the war to return home often with scars both physical and mental.
One of the pleasures of our work has been meeting people  who are justifiably proud of their relatives. One such man is Peter Capewell who is the nephew of Colin Capewell. We first became aware of Peter after he had a story published in the Cheadle and Tean Times newspaper. Unfortunately, his contact details were not known other than he lived in Tean.
Undeterred a scan of the telephone directly revealed a possible link with the same name and he was duly called and it was our Peter Capewell. Peters father was Ernest Capewell.
Another relative of Colin Capewell was found quite by chance. Yvonne Eady lives in Northampton and is the granddaughter of Frederick Capewell who was the brother of Colin and Ernest Capewell. We got to know Yvonne after one of the project team met her in Kingsley looking for the war memorial.
Both Yvonne and Peter have provided a wealth of background information to the project and we are very grateful for their help.
At the turn of the twentieth-century families were still large and potentially there would be several brothers. The Great War saw many brothers joining the forces and tragically families losing more than one son or brother was very common.
The Capewell brothers all served in the war. Colin and Ernest joined on the same day and had sequential army service numbers. Colin served right up until 1918 when he died as the result of a poison gas attack. His story is recorded Here.
Ernest served in the 9th Batallion North Staffordshire Regiment , the 1st Battalion and then back to the 9th Battalion. Colin served in just the 9th Battalion. We do know  that he entered the France on 28th July 1915 on the same date as his brother and both saw active service.
He served throughout the war but in December 1917 he was injured receiving a shrapnel wound to the leg and at the time of Colin's memorial service was recorded as being in hospital in Blackburn still recovering from it indicating how severe a wound it was.
Peter tells how his father never talked about the war or his service in it never mind his injury. Peter has the piece of shrapnel that was removed from Ernest's leg in a gauze bag. It was apparently pinned to his pillow after the operation. The 9th was a pioneer battalion engaged in building defensive works and tramways. It was not an easy life and men were exposed to danger from enemy action. At the end of 1917 the commanding  officers report listed that 7 officers and 54 other ranks had been killed during the year with 1 officer and 25 other ranks missing and over 300 wounded. He added that 500 men had been sent to the infantry during the year being replaced by Scottish Royal Engineers. He concluded  that the battalion was no longer representative of the area it came from. During the year the battalion had been involved in action at Neuve Chappelle, Loos, Arras, Messines Ridge and Ypres.
We don't know when Ernest moved to the 1st Battalion but its likely he could have been one of those transferred to the infantry. His casualty record merely records his regiment and not the Battalion he served in.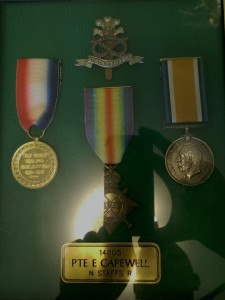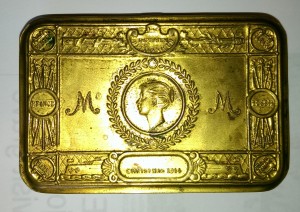 Peter has his fathers medals and also a Princess Mary Tin that was issued to all troops on active service for Christmas 1914. The tins contained  tobacco for smokers and there was also a non-smokers tin.
The younger brother was Frederick, who joined the Duke of Cornwalls Light Infantry according to the Cheadle and Tean Times in April 1916. Prior to that he worked at Brittains Paper Mill in Cheddleton which he to returned to after the war. His service record does not survive but we know that on 30th November 1917 he was taken prisoner by the Germans  at Cambrai and was held in prison camps for the rest of the war. Prior to this he was wounded in December 1916 with his name appearing on the January 1917 casualty list.
The war diary for the 7th Batallion Duke of Cornwall's Light Infantry makes very interesting reading. Not only does the diary lists numbers killed, wounded and missing it actually names them and dates the entries. It records that Joseph Capewell was wounded on 15th December 1916 during a German attack. On the evening of the 14th December their  lines were shelled and the Germans were seen to be coming out of their trenches, but were driven back by counter shell fire. The diary lists two men were wounded however the appendix of those wounded only shows one on 14th and then J Capewell (See later on re this name difference)  on the 15th – he was either wounded after midnight or was one of the two men wounded referred to but did not report his wound until the next day. It does state he was in C Company.
On 30th November 1917  the Duke of Cornwall's were subject to a fierce German counter-attack which is well documented in the War Diary. They were in trenches at Gouzeacourt south-west of Cambrai when attacked. The battalion was on either side of a valley and after a barrage further along the front it was noted that troops in front of them were withdrawing. This suggests that they have been part of a secondary line of defence. The Germans then attacked in strength and the battalion commander was killed leading a party of men to reinforce one of the companies. A, B and C companies held their front with the Germans around 50 yards away but were forced to withdraw as they were in danger of being outflanked and cut off. The  battalion reformed and there was some enemy movement on their front but no direct attacks. As evening drew in the Germans attacked via a connecting trench they held and bombed the Cornwall's but were driven off by counter bombing. Prior to this engagement, the casualty return for November numbered around 100. For this one action, the casualties were 2 officers and 13 other ranks killed, 4 officers and 50 other ranks missing believed killed and 3 officers and 90 other ranks wounded.
41 men are recorded on the Commonwealth War Graves Commission site has having died on the day whilst serving with the Duke of Cornwall's Light Infantry. All bar 2 are commemorated on the Cambrai Memorial at Louverval. The other 2 are buried in cemeteries possibly used by Casualty Clearing Stations having died of wounds. Most men came from the 7th Batallion.
Unfortunately, the casualty record for this day is handwritten and difficult to read but Pvt 28107 Capewell J is there recorded as Missing believed Killed. We know now of course that he was taken prisoner. The assumption is that as the battalion withdrew he could not get away and was captured. It is noted that both his casualty reports have him as J Capewell but it is Frederick as we know, the service number is correct and elsewhere in daily the casualty report and POW records he is F Capwell.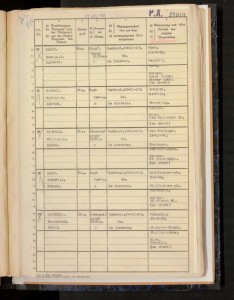 During the war the Red Cross Society of Switzerland visited British prisoners of war and kept records which are now available to researchers. Fredericks record has been located and one of the documents is adjacent to this text.
On his return from the war Frederick purchased a former army war hut that he and Ernest collected from Cheddleton station and transported by horse and cart to Blakely Lane on Kingsley Moor where it stood for many years being his family home. Details of it including a photo and a plan of its construction have been passed onto a group who are researching the history  of the war hut and its subsequent use. More information can be found at www.greatwarhuts.org/ and at their Facebook page https://www.facebook.com/greatwarhuts/?fref=ts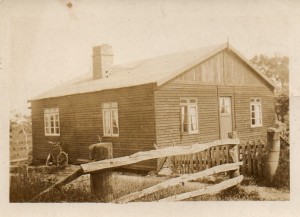 Ernest also had a wooden cottage built further long on the A52 which was thought to have been a army hut but it is not as confirmed  by Peter. It still stands to this day.
Frederick died in 1954 aged 60 years following an accident with a chainsaw and his funeral was reported upon in the local papers detailing how well liked he was and  that he had been a British Legion member for the previous 16 years. He also served in the Home Guard during World War 2 as well as being a fire picket at Brittains Paper Mill where he worked.
After the war Earnest married May  Bradshaw in 1920. Ernest died in 1973 aged in his mid seventies having worked as a miner at Foxfield, New Haden and Florence collieries up until 1941 when an accident that left him with a badly broken arm  saw him discharged from the pit. He then sought employment at Brittains Paper Mill at Cheddleton.
May Capewell's brother was William James Bradshaw also from Kingsley Moor.  He was born 24th September 1897 to William and Alice Bradshaw and in 1901 the family were shown as living at Harewood Hall near Cheadle.
In 1911 William was living at a farm in Bottom Houses near Leek where he was working as a farm labourer.
On the 11 December 1915 aged a little over 18 years old he volunteered for service and joined the Royal Artillery under number 213177. His occupation was given as a cow farmer.
His address at this time was Hazlewall Cottage Kingsley Moor which was also given as his fathers address. Having joined he was transferred to the reserve before actually joining up in January 1917.
Following his training he was transferred to the 466th Howitzer Battery of the Royal Field Artillery and crossed over to France in May 1917 via Le Havre. He was a driver in the army more than likely driving the horse's tasked with pulling the guns and limbers.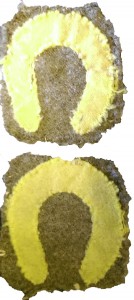 His nephew Peter Capewell has in his possession the army cloth badges that look like horse shows. We are grateful to Martin Clewlow who has been a constant source of help to the project, and suggests these are farrier badges worn by a soldier who shod the horses etc. There is nothing in William's record to suggest he was a farrier but there is a good chance this is where they came from.
In August 1918 he was admitted to hospital suffering from Pyrexia and after 5 days treatment had 2 weeks in a rest camp after which he was transferred to the 277 Brigade although it unclear exactly which unit this was.
He was demobbed in 1919.
After the war he was believed to have returned to farming and was also employed by John Smith father of Reg Smith (Kingsley Moor Garage) where he was employed hauling bricks to building sites by horse and cart.