Part of the project that has been funded by the Heritage Lottery Fund is to leave a lasting legacy in the parish and that is to upgrade the area around the war memorial on Dovedale Road.
What is planned is to improve the footpath up onto the memorial and onto the Staffordshire Way, replace the current concrete seat and add an interpretation panel to allow people to better understand the heritage that comes from our research and the men who's names are on the memorial.
In addition the current fence will be fully removed along with the stile and replace with a kissing gate.
We are grateful to Staffordshire County Council who have donated the gate and posts and to landowners David and Josie Clowes who will supply a matching fence to complement the kissing gate.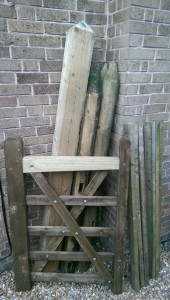 The gate and materials arrived last week and we are now making arrangements to get them installed to allow the other works to commence.
Big thank you also to Helen Anderson of Staffs Moorlands Voluntary Services who is hopefully arranging the voluntary labour to install the gate.
Here is an architects drawing  of the site and plans (click to enlarge)