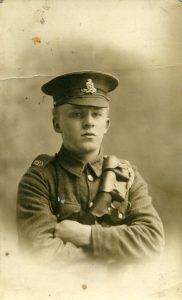 And not forgetting why we share.
The project clearly focuses on Kingsley Parish and its contribution to World War One.
Much of our research overlapped into other areas especially Cheadle and the villages surrounding and whilst much of the information never made the book due to not being relevant we have always been all too willing to share our research freely.
After the book launch in April, we came into possession of numerous photo's courtesy of a local man. Several were unknown but on the basis that they might be Kingsley men and relevant to our work efforts were made to identify them.
One was identified by a friend to the project as Enoch Hoyland from Cheadle who died in 1916 on the Somme.
All our photos as well as being on the website were shared with a website called www.ww1photos.org to ensure these men's memories and stories were not lost and were shared far and wide.
A few weeks ago the website owner made contact to say that a relative of Enoch Hoyland from Warwickshire who was searching for information on him had come across the site and our photo of Enoch. They did not have photos of him during his service and are naturally delighted to now have a photo from his time in the army.
Research locally has revealed newspaper articles relating to his death (which include the above photo) and later to the death of his brother George who died in captivity as a POW in 1918.
Enoch was just 19 when he died, his family came from the Green in Cheadle. Remarkably his death is recorded in a book called 'A Gunner's War' written by Ian Ronayne from the memoires of Enoch's friend Clarence Ahier who was present when he died.
Below is an extract from the book relating to Enoch, if you click on it then it will open in a fresh browser tab.