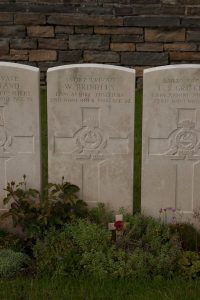 War is always cruel and fate had it that William Brindley was to lose his life just 9 days before the end of the war. he was the twenty-third man with links to the parish to lose his life. His service record does not survive but he joined the army its believed in late 1917 and was posted to the Lancashire Fusiliers.
His father is not known and he was to some degree brought up by his grandmother. We have not traced any descendants and we have no picture of him.
Two members of the project team visited Williams grave which is situated on the roadside as you enter a French village in 2016. We wondered at the time if we were the first to specifically visit him and it's likely we were. He lies with a number of his comrades who also lost their lives on that day. Two days later his battalion was withdrawn from what was their last engagement of the war.
Not far from where Williams battalion was positioned was the Manchester Regiment in which Wilfred Owen the war poet was a Lieutenant. He died on 4th November.
William's story is to be found HERE