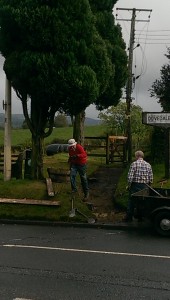 The Project Team are very pleased to announce that work has commenced around the War Memorial site on Dovedale Road. Initial works have seen the removal of quite an amount of soil and rubble to form the foundations of a pathway up from the pavement on Dovedale Road to the new kissing gate and also onto the memorial itself.
This will allow anyone of any ability to walk up to the memorial as well as improving access across the site on the Staffordshire Way.
Further works will see a paved area constructed around the site and also a new bench sited. In time an interpretation panel will be erected as well.
This first  phase of the work will it is hoped be completed for this years Remembrance Day at the memorial.