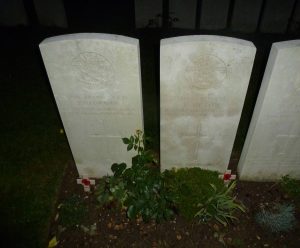 Today, 9th April marks the centenary of the death of Ernest Upton. It is also the centenary of the Battle of Arras with Ernest dying in that area and is buried in a small cemetery on the outskirts of the town which gave its name to the battle.
Ernest died along with a comrade whilst repairing roads damaged by shell fire. He and his comrade were killed by an exploding shell and are buried together.
Ernest's story can be found HERE 
Elsewhere on this site are Ernest's  letters from the front some of which appear in our forthcoming book.
Talking of the book, the first batch of 140 copies arrived on Friday and we are extremely pleased with the end product.
The book is being released on Sunday 23rd April at Kingsley Village Hall, where we will hold an end of project event as well.
We have had 300 copies printed and we are sure they will go fast. An Ebook will be released on this site shortly after the book launch.