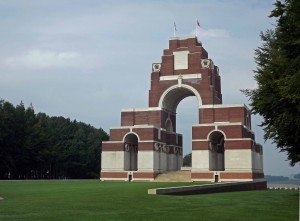 Private 7524.  North Staffordshire Regiment
Charles Allen was born around 1892/93 to Mary J Allen. Little more is known of the family at this time.
In 1901 the family has seemingly fallen on hard times and is living in the Workhouse in Cheadle. Charles is aged 8 and has a sister Mary aged 4.
By 1911 there is at present little to say on the family, Mary Jnr is aged 14 at this census and working as a domestic servant at Fole. There is at this time no information on mother Mary Allen and son Charles Allen.
Research to date has not been able to locate the either mother or son at this time in the census returns. Unfortunately the Workhouse records do not contain any lists of inmates. Out of interest the workhouse became what is now Cheadle Hospital.
Charles Allen joined the Army fairly early on in the war under  Service No. 7524, and was posted to the North Staffordshire Regiment. Newspaper reports at the time of his death describe him as a reservist which seems to confirm he served before the war.
His service prior to the war is further confirmed as he is shown on the roll of soldiers in the North Staffordshire Regiment at the outbreak of the war. (Staffordshire Regimental Museum Lichfield)
Initially Charles served in the 4th Battalion, (a reserve battalion).  On 23rd March 1915 Charles Allen was transferred to the Ist Battalion who were in action on the Western Front in Northern France.  (Army Medal Card).
On 5th February 1915 in the Cheadle and Tean Times it was reported that a Whist Drive had been held (believed at the Reading Room) in aid of those at the front. From the proceeds it was decided to purchase socks with half a dozen being kept back to send to Charles Allen a member of the Reading Room.
On 6th May 1916 Charles Allen (then aged 25yrs) married Mary Ellen Thomas at St Werburghs Church , Kingsley.  It is assumed that he was back on leave. At this stage Charles was a serving soldier in the North Staffs Regiment as stated on the marriage certificate.  The Marriage Certificate indicates no details are known of his father, (he may have been born outside of marriage).  Kingsley is indicated as his place of residence.  (Marriage Certificate).  
Mary Ellen Thomas was the daughter of Edward and Mary Allen who had previously lived in Cotton.  In 1911 Mary and her mother were living in Back Lane, Kingsley.  (1911 Census).
By that time Charles had been wounded in action being listed on the daily casualty lists for 5th November 1915 although he would have been injured possibly days or weeks before that. Reports after his death indicate he was quite seriously injured as he recuperated  in Jersey and it was thought he would not recover sufficiently for further active service. (it may have been Guernsey rather than Jersey as the 4th Extra Reserve Battalion was there from 1914 to 1916)
The 1st Battalion, North Staffs Regiment were involved in the Battle of the Somme, (1st July – 18th November 1916).  They were involved fairly early on in the battle moving to the front in late July early August. At the end of August the battalion historian records that rotting corpses littered the area they were in. (Tracing British Battalions on the Somme Ray Westlake)
Charles Allen was killed on 12th August 1916, a little over 3 months after his wedding in Kingsley.  He has no known grave along with over 70,000 others who died in this battle. Charles Allen is commemorated at the Thiepval Memorial Cemetery, Northern France, (CWGC).
The War Diary for his battalion records the following information :
12 August 1916 / 13 August 1916  – "Fine clear day. Total daily casualties to 12 noon 1 killed 5 wounded. Orders received at 11am that Battalion will relieve R W Kents during evening of 12th inst. Relief begun at about 4.30pm almost simultaneously with allied attack on our immediate right of which we had not been warned. Relief complete 9.30pm (approx) a few casualties in joining up. Enemy bombardment on front line — and Hollow Road 9.30pm to 10.30pm. 11pm to midnight, 1am to 2am [ unreadable] bombardment of Hollow Road and supporting lines from 3.45am to 5.30am. [unreadable] shelling in between bombardments. Casualties to 12 noon 7 OR killed and 20 wounded"
The previous day saw the Battalion moving into trenches as an attack was taking place in the late evening. There is little detail in terms of what happened during that time but the casualties were fairly light. Whether Charles Allen was killed during those manoeuvres after midnight we do not know. However casualties were higher in the following 24 hours from midday 12th August which saw the battalion moving up to relieve the Royal West Kent Regiment. Its highly likely that Charles Allen was killed during the bombardment of the British trenches. He and 6 other men killed that day have no known grave. Another 3 1st Battalion men are recorded to have died on 12th August making a total of 10 which is 2 more than the war diary. The most likely explanation is that they died of wounds received on that or a preceding day.
A local press report at the time  of his death refer to him as an intelligent and interesting man who on returning to the village on leave had descriptive stories of his experiences to tell.
The report adds that at the time  of his death his widowed mother and sisters were living in Stone.
Footnote 1:  The Battle of the Somme, also known as the Somme Offensive, was a battle of the First World War fought by the armies of the British and French empires against the German Empire. It took place between 1 July and 18 November 1916 on both sides of the River Somme in France. The battle was one of the largest of World War I, in which more than 1,000,000 men were wounded or killed.  (Wikipedia).
Footnote 2:  The Thiepval Memorial commemorates 73,367 British and Commonwealth soldiers that fell during the Battle of the Somme between July and November 1916 and who have no known grave.  (Wikipedia).