Private – 41001 1st Battalion Cameronians (Scottish Rifles)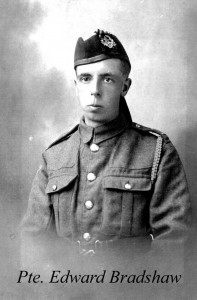 Edward Bradshaw was born on 24th February 1891 the son of Richard and Hannah Bradshaw. The family at that time comprised of 3 daughters and 4 sons with Edward the youngest being at the time of the census a month old. Richard Bradshaw's occupation was given as a Butcher.
By the 1901 census the family had moved to Church Farm, Kingsley, where Richard ran his own business. Hannah Bradshaw had died in the spring of 1894 and Richard had married Elizabeth Beresford Fletcher (Hannah's sister) in spring of the following year.
In 1911 the census shows them as living at Haste Hill Cottage, Edward was now working as a grocers assistant with the entry suggesting that was part of the butchers trade his father was still carrying on.
He joined up in the spring of 1916 initially enlisting with the North Staffordshire Regiment but after training he was transferred to the 1st Battalion of the Camoronians (Scottish Rifles) via the 2/6th Scottish Rifles. This transfer took place some time after 9th December 1916. Letters in possession of his family assist in this respect with one dated 1st May 1917 confirmed he was by then with the Cameroonians although it had taken place some time before this as indicated by an article in the Staffordshire Weekly Sentinel.
In the month prior to his death, April 1917, he was involved in an act of bravery where he helped to save the life of an officer. This was recorded in the Staffordshire Weekly Sentinel on 16th June 1917 when his memorial service was reported upon.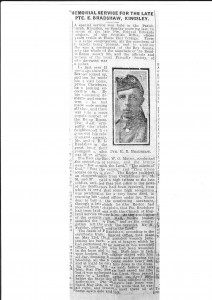 It seems that an officer, one Lieutenant Sloan had received wounds to both legs, Edward dressed the wounds and stemmed the bleeding for the whole day whilst under fire. Once darkness fell he carried the officer back to his own lines. The report states that the Lieutenant died of his wounds later that month having been evacuated to London.
On 20th May 1917 the battalion and Edward were in the Sensee Valley to the east of Arras when they moved up to attack the Hindeberg Line once more. The attack appears not to have gone smoothly as was often the case but they succeeded in getting to their objective and took 50 prisoners. It seems their location was less than clear as they could not be found to resupply.
Throughout the following day, 21st May 1917 the company remained dug in some 50 yards in front of the enemy trenches. Whilst the day was described as 'fairly quiet' they were subject to persistent sniping and machine gun fire. At 2330 hrs that day they withdrew in accordance to their orders.
As a result of the action of the previous two days the battalion's casualties were recorded as two officers killed, two wounded with 14 other ranks killed and 100 wounded with 16 missing.
Edward Edwards Bradshaw is recorded as having being killed on 21st May 1917 as the result of gunshot wounds to his back. The precise nature of his death is not known.
His body is buried in the Bucquoy Road Cemetery at Ficheux to the south of Arras.
Footnote 1. The war diary for the Camoronian's records that on 14th April 1917 the Battalion had moved up from Henin in France to the Hindenburg Line where they were to attack the German trenches. Four companies were involved in the attack which was held up by enemy barricades in their path and then they were subject to machine gun fire. Ground gained was around 100 – 150 yards. Casualties recorded were 2 officers killed and three wounded. One was Lieutenant Sloan and against his name is recorded (died of wounds) which appears to have been written at a different point. There are no reports of casualties to other ranks.  (Henin is situated north east of the town of Arras.)
Footnote 2. Lieutenant Wilfred Scott Sloan died on 28th April 1917 in France.  He is buried in the Etaples Military Cemetery. There is no record of any bravery award being made to Edward but it  often required evidence from an officer plus the support of officer's up the chain of command.
Footnote 3. Three relatives  of Edward Edwards Bradshaw have been located.
Janet Walton of Kingsley Holt and Jane Child's from the Potteries. Janet who's husband Phillip has compiled an extensive family history with emphasis on Edward. Edward was Janet's great uncle.
Edward was Jane's great uncle and her grandmother was Edwards sister.
Margaret Heywood nee Bradshaw is related to Edward via her great grandfather who was Edward Bradshaw's father's brother.