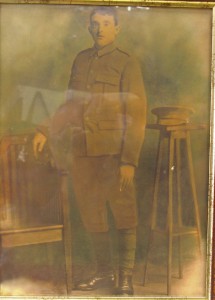 Private 43193.  Lincolnshire Regiment, 7 th Battalion
George Wheawell was born on 12th May 1885 to George (Snr) and Emma Wheawell of Kingsley, the oldest of their four children. George (Snr) was employed locally as a Miner.  The family lived at Brookgate Cottage, Kingsley.  (Family History records).
In 1901 the family were living at Kingsley Green, possibly the same address. As well as George (Jnr) who was 15 years old, there was also Mary (13 yrs), John Thomas (9 yrs) and Clement (6 yrs) old.  George Wheawall (Jnr) is described as a 'Coal Miner – Pony Driver underground'.  (1901 Census).
By 1911 George (Snr) had died, his widow Emma is head of the household.   George (Jnr) then aged 25 years and his two brothers remain living at home, sister Mary (23yrs) had moved out.  George (Jnr) is recorded as being Single and employed as a 'Colliery Wagon Loader – Below Ground'. (1911 Census).
On 14th May 1911 George Wheawall married Mary Ellen Handley at St Werburgh's Church, Kingsley. They subsequently had two sons, John (born 1912) and Clement George (born 1913).  Initially the family lived locally in Kingsley.  (Family History records).
George joined the army in 1914/15 initially joining the Nottinghamshire and Derbyshire Regiment, Service No. 23144, before being transferred to the Lincolnshire Regiment (7th Battalion), Service No. 43193. (Medal card).
It would appear that George Wheawall was on active service during 1915 as one of the medals he was awarded was the '1915 Star' awarded for men who served in the theatre of operations before 31st December 1915. His medal card indicates he entered the 'Theatre of war' on 7th November 1915 on Active Service in Egypt. The Lincolnshire Regiment was not in Egypt at any time (a staging post for Gallipoli) but the 9th Battalion  Nottinghamshire and Derbyshire Regiment were with two battalions in Egypt at some point in 1916. His medal roll indicates he was in the 9 batallion. George may have been at Gallipoli although we may never know.
The Lincolnshire Regiment, 7 th Battalion, saw active service on the Western front in Northern France and notably were involved in Action in the Bluff (February 1916), Battle of Albert (July 1916), and the 'First and Second Battles of the Scarpe' (April and May 1917), and the Battle of Arras, (August 1917).    (Regimental War Diary). George transferred to the regiment some time in 1916 /17  but as he service record does not survive we do not know the date.
At 3.35am on 8th August 1917 during the Battle of Arras the Germans laid a barrage of artillery shells on their position which increased in intensity until 4.30 am. The British artillery replied in kind.  The Germans then attacked with infantry some getting into the British trenches before  being 'ejected' leaving some of their dead behind them. The Germans brought explosives with them but never had time to use them.   (Regimental War Diary).
As a result of the attack the following British casualties were sustained mainly from the artillery bombardment; 10 other ranks killed, 31 wounded (5 remained at their posts) with 2 men missing in action.  The rest of the day was spent repairing damage caused to the trenches.   (Regimental War Diary).
It is assumed that George Wheawall was one of the 10 men killed in the action on 8th August 1917. His family history records indicate that, 'He was shot and killed by a sniper whilst on stretcher duty on the 8th August 1917, aged 32 years'.  (Family history).
On 9th August 1917 the battalion relieved by a battalion from the Lancashire Fusiliers.  (Regimental War Diary).
George Harrison Samuel Wheawell is buried in Brown's Copse Commonwealth War Cemetary at Roeux.  (CWGC).
His widow Mary Ellen Wheawell died in the great flu epidemic in November 1918.  (Family history).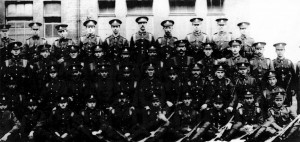 The picture adjacent is of George and his comrades – possibly judging by the numbers it was his platoon who are pictured. George is on the back row fourth in front the left with an X above his head.
We are grateful to George's family who have allowed us to use both pictures of him during his war service.
We also have a letter written to his family by a friend from the front which we hope to ranscribe at some point and put on the site.
Footnote 1: We are grateful to the family of George Wheawell for sharing their history with us including pictures of him. The family includes Mandy Jones who is the  great grand daughter of George and her father who is his grandson.