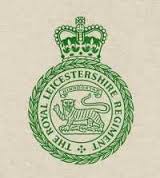 Private 48206. Leicestershire Regiment
John William Salt was born in January 1885 in Caverswall, the son of Henry and Emma Salt, the oldest  of their three children.  In 1891 the family were living at 17 Belle Vue, Leek, Staffs.  (1891 Census).  In 1901 John (aged 17yrs), was working at Kill Hill Farm, Bosley, Nr Macclesfield, for Elizabeth Brindley (Farmer) as a 'Stockman – Cattle Farm'.  (1901 Census).   
In 1911 John (aged 26 yrs) was living with his parents at Greenhead, Kingsley Moor, near Cheadle, and was employed locally as a Blast Furnaceman.  The Census indicates that he was 'Married', albeit his wife is not recorded on the census. (1911 Census).  It seems likely that this was a clerical error by the census compiler as later army records, completed with information directly from John William Salt, make no reference to him being married.
It would appear from the available information that John William Salt had three separate stages of army service. Army records indicate that:
John William Salt initially served for a period of 6 years 4 months in the North Staffordshire Regiment.  

(Army Records)

.  (This was presumably in the the period between 1901 and 1911 although it may be a later period whilst serving as a Territorial Soldier)

On 11th September 1914, John Salt, then aged 29 years 8 months, enlisted in the British Army for a 3 year Short Service Term, Service No. 37224, being posted to the Royal Regiment of Artillery (RRA).  In a pre-enlistment medical at Leek, he was described as 5 feet 9 inches tall, weighing 9 stone 11 lbs, with a 35 inch chest.  He was 'Profusely tattooed back and front of both forearms. The middle finger of his left hand was missing.  Records indicate he discharged on 11th November 1914, after 55 days, as

'Not being likely to become a good and efficient soldier'

.  

(Army records).

From the limited information available it seems that at some later stage, possibly on 10th December 1915,

(indistinct reference to this date in Army Records)

, John William Salt rejoined the army and was allocated to the Leicestershire Regiment, Service No. 48206.

(Army records).
John William Salt was involved in active service in France with the Leicestershire Regiment, 7th Battalion, (CWGC Certificate).  Records indicate he died of Influenza on 18th November 1918, one week after the war had ended.  (Army records).
As an indication of the 1918/19 post war confusion the Army wrote to John Salt's family asking if they were aware of his whereabouts.  His father replied that he was last seen, 'Over on home leave in September 1918' and that he 'Died in France on the 18th November 1918 …. (illegible)…… Leicester Regiment'.  (Army records).
From the period of when he was last home on leave to the date of his death the regiment were still involved in fighting. According to the War Diary in September 1918 34 men were killed, 231 were wounded and 18 listed as missing. October 1918 saw over 100 casualties with 26 other ranks killed plus a number of officers wounded and killed.
Following the Armistice the Battalion retired to the rear and on the date of John Salt's death were involved on a route march in full fighting kit. There is of course no mention of John Salt. The month's end casualties detail 38 men wounded in action and 2 killed. There is no mention of men dying through illness.
Of course 1918 / 19 saw the great flu pandemic that killed up to 1 in 20 of the world's population and clearly John Salt was one such victim.
The end of 1918 saw the Battalion winding down with the first 150 men returned to England identified as 'miners' suggesting their need was now at home in the coalfields.
John William Salt is buried in the Caudry British Cemetery in France. The cemetery is situated south east of Cambrai and Arras.
According to the Commonwealth War Graves Commission Salt is recorded as SALIT and he is also known to the Leicestershire Regimental website by that name and also Salt.  However his medal card is recorded as J W Salt. Whether this is a spelling mistake we shall perhaps never know as his Leicestershire war record has not survived. However his earlier service makes no mention of his subsequent service and clearly the Royal Regiment of Artillery had no idea where he was hence the letter they sent asking for information.
He may have joined under a false name or he may have joined under his correct name once the standards for service had lowered. The 1918 Voters Lists show his mother and father still living on Kingsley Moor but there is no mention of John Salt even as a Naval or Military voter.
As always if anyone can shed any light on his service etc please do get in touch.
Footnote 1.  The 7th Battalion, Leicestershire Regiment, formed part of the 110 Brigade, 37th Division, (The Leicester Tigers), who saw continuous active service on the Western Front in Northern France for the duration of the war, including action at Ancre, Menin Road Ridge, Passchendaele, Havrincourt, Cambrai and Sambre.  (The Long, Long Trail).  
Footnote 2.  In early November 1918 the regiment were involved in heavy fighting near the Sambre River.  At the time of the armistice, the regiment were withdrawn to Brigade HQ at Berlamont, North West France. (Regiment War Diary).
Footnote 3.  It seems a particularly cruel irony that John William Salt survived the duration of the war only to die of Influenza a week after the German surrender.
https://www.cwgc.org/find-war-dead/casualty/571984/salt,-john-william/