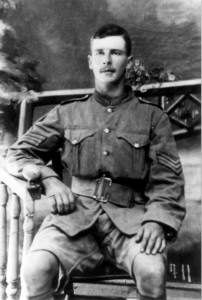 James Millward was born in around 1891 in the Dilhorne area to parents James and Elizabeth. He was ultimately one of 7  brothers and he also had 5 sisters. Three other children died after birth.
In 1901 at the census the family were still resident in Dilhorne with his father's occupation given as a below-ground coal miner, ten years earlier he had been a general labourer.By 1911, the family had moved to the Wagon and Horses Public House where James senior was listed as the Innkeeper on his own account. James junior was employed as a coal miner more than likely at Foxfield Colliery.
James who was unmarried volunteered to join the army it is thought in 1914  following Kitchener's call for volunteers. Family history tells us he went to join with a good friend named Clifford Salt who turns out to be the brother of John William Salt who died in November 1918 whilst serving in the Leicestershire Regiment. The Cheadle and Tean Times newspaper dated 2nd October 1914 refers to James Millward as having joined up.
James signed up first but then Clifford had second thoughts and didn't! James seemed to get over this as he remained friends with Clifford after the war.
Whilst what we know about James is that he served with the East Yorks his family believe that he joined the North Staffordshire Regiment first. It was often the case that men would join their local regiment but then find that they were transferred soon after as replacements after heavy losses.
This seems the case with James as after the war his regiments medal roll shows that several men whose  number's preceded or proceeded his and were killed are referred to as ex-North Staffs. The East York's war diary refers to being reinforced by men from the North Staffordshire Regiment following heavy losses during the second battle of Ypres which took place between 22nd April 1915 and 25th May 1915.
Unfortunately James nor the others service records survive to confirm this for sure.
James' medal record shows he entered France on 8th May 1915 as a member of the East Yorkshire Regiment.
He saw action on the Western Front up until January 1916 when the battalion was transferred to modern day Salonica in Greek Macedonia where they fought the pro German Bulgarian forces.
During his time in Salonika he was mentioned in dispatches indicating that he had performed to a high standard worthy of mention in a Generals Dispatch from the front
Disease and illness accounted for many casualties during their time there, indeed more than those caused by the fighting.
It was during this period that James was promoted to the rank of Sergeant.
At the end of the war James returned home and in 1921 married Violet Harrison who's father was Adam Harrison one of the wardens at St John's Church Kingsley Moor.
He returned to work at Foxfield Collery whilst later taking on the licence at the Wagon and Horses public house just as his father had  some years before him.
In 1954 the family had set up home at nearby Victoria Cottages and James was still working at Foxfield Colliery to which he cycled.
Tragically in 1954 when aged around 64 years he was killed whilst cycling to work.
He and Violet had ten children one of whom is the mother of Martin Clewlow a good friend to the project who had a very keen interest in the first world war and militaria in general.
James Millward is remembered on the tablet unveiled in 1920 at St John's Chapel  and dedicated to all the men who served in the war and were from the Kingsley Moor area.
In addition to James two of his brothers Bertie and Alfred also served in the war and are likewise on the tablet although little is known of their service.