Lieutenant Colonel.  Warwickshire Yeomanry
Rowland John Beech was born in the period October – December 1853 (Births Index) in Brandon, Nr Coventry, Warwickshire, the son of James (born Shawe Hall, Kingsley) and Emily Beech, being the second of their five children.  In 1861 the family were living at Brandon Lodge, Brandon, Warwickshire, supported by 17 members of household staff. (1861 Census).  By 1871 Rowland's father James was no longer with the family and may well have died. (1871 Census).
In 1881 Rowland Beech was a Lieutenant in the Household Cavalry.  At the time of the census he was one of at least 25 men of a similar rank at the 'School of Musketry', Hythe, Kent, possibly undergoing some form of military training. (1881 Census).
Around 1886 Rowland, (aged 32 yrs) married Adelaide Frederica Cure, and returned to live at Brandon House, Warwickshire, where Rowland is described as 'Living on his own means'.  The couple had four children, Christabel, Irene, Rowland Auriol and Douglas.  (1891 Census).
In 1911 the family remained living at Brandon House, Warwickshire, at which stage Rowland (aged 57 yrs) was described as being a Lieutenant Colonel in the Warwickshire Yeomanry.  He was also a Justice of the Peace in the Counties of Warwickshire and Staffordshire.   (1911 Census).
On 21st February 1915 Rowland Beech's oldest son Rowland Auriol James (Jim), a Lieutenant in the 16th (The Queens) Lancers, was killed whilst on active service on the Western Front in northern France.  More Detail Here
Rowland Beech was posted to France on 22nd February 1917 and saw active service as a Lieutenant Colonel in the Warwickshire Yeomanry and 2nd Lifeguard Regiment. It would seem that the death of his son promoted him at the age of 63 to re-join the army.
Army Record – as an officer Rowland's record was stored elsewhere and not subject to loss / damage in the 'Blitz' and is stored at the National Archives. The project will be visiting the National Archives in Kew this autumn to continue their research.
Rowland Beech died on 30th August 1919, aged 65 yrs, almost 10 months after the end of the war.  At that time he was recorded as having the following addresses:
– Brandon Hall, Nr Coventry, Warwickshire.
– The Shawe, Kingsley, Staffordshire.
– 71 Cadogan Square, Chelsea, Middlesex
– 7 Turlingham Gardens, Folkestone, Kent.
Probate records indicate he left an estate valued at £206,931 15s 8d.  (Probate Records).  This was a very significant estate roughly worth £8 million by 2014 values.  (This Money website)
His death certificate has been obtained and records his death as the result of anterior scelerocis, cerebral softening and cardiac failures. None of these would appear directly attributable to his war service but given that his death occurred shortly after the war he was classed as a casualty of war.
Rowland was buried in the family crypt within St Werburgh's Church and there is also a tablet erected on the wall of the church near to one erected in the memory of his son.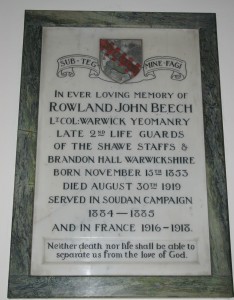 His burial and that of two other men (Leonard Edwards and George William Hood) are commemorated on to Commonwealth War Graves Commission site and the church yard is acknowledged as a CWWG site.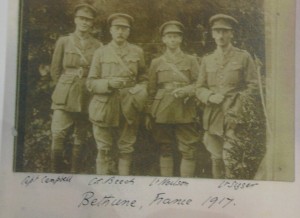 Rowland John Beech pictured second left in France 1917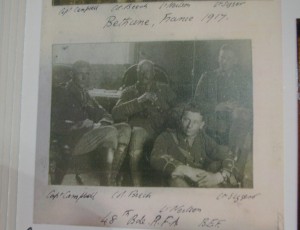 A further picture of R J Beech – note that he is wearing a blank armband which signifies the loss of his son.