Private 200736 – Royal Tank Corps
George Ramsell was born in the period January – March 1896, the son of Benjamin (a Copper worker) and Dency Ramsell, the second of their seven children.  In 1901 (when George was aged 5 years) the family were living at Froghall House, Froghall.  (1901 Census).  Froghall House is adjacent to the former George Botham's Farm, Foxt Road, Froghall.
In 1911 the family were living at Froghall Cottage, Nr Cheadle, Staffs, (Parish of Kingsley).  At this stage George Ramsell, aged 15yrs, was employed as a 'Copperworks Labourer'. (1911 Census)
During his time in the Army his home address was Beech Tree Cottage, Froghall, (Family history)
George Ramsell joined the Tank Corps, Service No. 200736, and was allocated to the 4th Battalion.  He was deployed to France in October 1915. (Army Records).
Full Army records required.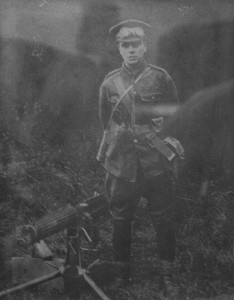 George Ramsell died on 8th August 1918.  His Army service record is briefly endorsed, 'K in A 8/8/18'.  He commemorated on the Memorial at the Hangard Communal Cemetery Extension, Northern France.
On 8th August 1918 the 4th Battalion Royal Tank Regiment were deployed on an early morning operation in support of the Canadian Infantry in an offensive in the area of the Amiens Defence Line.  The objective was captured and secured.  The advance continued during the day in the area of Cancelette, Le Marie Wood and Ignacourt.  Two tanks were lost to German field gun fire during this later operation.  (Regiment War Diary).
Footnote 1:  At the end of March 1918, Hangard was at the junction of the French and Commonwealth forces defending Amiens. From 4th to 25th April, the village and Hangard Wood were the scene of incessant fighting, in which the line was held and the 18th Division were particularly heavily engaged. On 8th August the village was cleared by the 1st and 2nd Canadian Rifles. (CWGC Website).
Footnote 2:  George Ramsell was the uncle of Pat Mullington, formerly of Kingsley Holt, now living in Cheadle.
Pictures of George Ramsell courtesy of the family