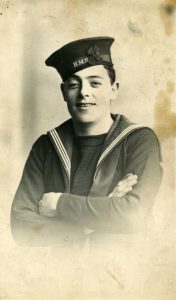 This site and the project it is linked to is all about World War One, the various centenaries and the men and woman who served in that conflict.
However 25 years after the start of WW1 the second World War commenced and we are now seeing 75 year anniversaries of Dunkirk, the  Battle of Britain, Al Alamein and the like and local men and woman were involved.
Today is 75 years since the raid at Dieppe in France, where a mainly Canadian force landed in what was an attempt to take pressure off the Russian's on the Eastern Front and also to test how to carry out amphibious landings.
Many called it a disaster and in excess of 4000 men were either killed, taken prisoner or wounded. The Royal Navy transported the men to the beaches on large ships and in small landing craft once offshore. The landing craft were crewed by men of the Royal Navy.
One such man was 18 years old George Flanagan who was the son of James Flanagan a WW1 veteran who featured on this site and features in our book All The Kingsley Men. The family lived ultimately at 7 and later 48  Sidney Drive Kingsley Holt after living in Kingsley for a spell.
George worked at Bolton's who had once again moved over to war work producing munitions and as such he was in a reserved occupation and unlikely to be called up.
However, he wanted to join the navy and did so as soon as he could. All we know is that George was on a landing craft and as such would have been on the frontline and in great danger as his craft took men and machines to the beaches.
The Royal Navy lost 33 landing craft and over 500 men were killed or wounded. George was one of those killed and was posted missing and his family notified. His mother always thought he would return one day, so much so that she left his coat hanging up on a peg by the door.
It was only after the war that they discovered he had been killed and buried under the name of his sweetheart Sarah Winton. It seems that prior to him going off to war they both had bracelets made with each other's name on. One can only imagine why those burying his body did not recognise it to be that of a man.
How this came to be found out is a fascinating story. Jim Flanagan was hurt in a factory accident and as compensation Bolton's gave him a better-paid job. He saved this additional money and used it to visit the Dieppe area to tour the cemeteries with his wife Mary in the hope of finding George's grave.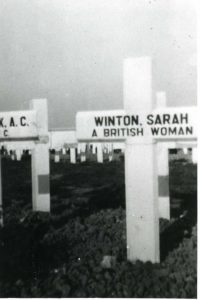 After several unsuccessful visits, Mary found a grave marked with Sarah Winton's name on and realised it was George's grave. George's body was exhumed and reburied with the correct name – initially, the marker was a wooden cross but later it was marked by the traditional CWGC headstone.
Jim as he was known and his wife Mary visited their son's grave into the 1950's and are pictured with it. They also visited Brown's Copse Cemetery also in France where Mary's brother George Wheawall is buried having lost his life in 1917, indeed the centenary of his death was marked very recently on the site.
George's name is commemorated on the Wayside Cross in Dovedale Road Kingsley and also on a tablet in St. Werburgh's Church.