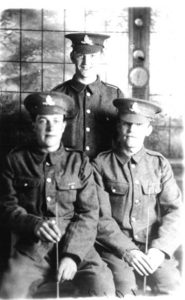 Last night, Sunday 30th July 2017 saw a most moving ceremony in the Belgium town of Ypres where the Last Post was played as it is on every single night, in the presence of the Royal families of both Great Britain and Belgium.
The event which was shown live on the BBC commemorated the eve of the centenary of the Third Battle of Ypres or Passchendaele as it is also known.
Not unusually Kingsley has a link to that battle in that Frederick Capewell (standing in the picture to the left) who was serving with the Duke of Cornwall's Light Infantry and was as far as our research shows present at the battle, in the later stages at least.
Those of you who watched last night will have seen historian Richard Van Emden talking about Harry Patch who is well known as the 'last fighting Tommy' as he was the last surviving man to have served in the trenches of World War One.
Harry was also in the Duke of Cornwall's Light Infantry and served in the same Battalion as Frederick.
Throughout our research, we have continued to find that the men of Kingsley were present at many of the great battles of the War be it at the Marne, on the Somme, at Jutland and now at Passchendaele.
These men provide a local link to the horrors of World War One and ensure that we do not forget that this was a conflict that affected every community and every family within those communities.
Frederick's story and that of his brothers can be found HERE