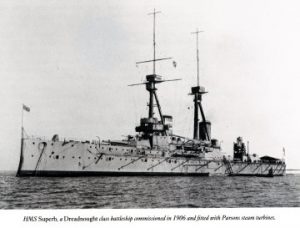 Despite being landlocked our research shows that quite a few men from the Parish served with the senior service that is the Royal Navy, and a few of those were serving before the outbreak of the war.
One such man was William Johnson who was born in 1883 at Whiston before moving to Froghall by the 1901 census. By that time both his parents had passed away and he and his brother George were living with a family named Carr.
In 1905 William left his job at Boltons Copper Works and signed up for 12 years with the Royal Navy. Over the coming years he saw service on several ships and no doubt travelled the world.
In June 1915 he was posted to HMS Superb on which he served for the next twelve months of the war.
The Battle of Jutland involving the Grand Fleet of the British Navy and the German High Seas fleet took place between 31st May and 1st of June 1916 and involved over 200 warships from both countries.
The debate on who won has raged ever since but at the end of the battle the British had lost some 14 ships and over 6000 men had lost their lives. German loss of life was over 2000 men and some 11 ships.
Some major British warships practically blew up killing almost all on board them due to unsafe handling of munitions in an effort to speed up the rate of gunfire.
One ship at Jutland was HMS Superb and it is believed that William was present on the ship for the battle. Superb's role in the battle was as part of the Fourth Battle Squadron where she was involved in returning fire on the German ships causing damage to two, the second of which was seen retreating heavily on fire.
At the end of June 1916 William moved ships and continued to serve in the Navy until 1919 when he was demobbed after 14 years service.
We would love to hear from any relatives of Williams or his brother George who also served in the North Staffordshire Regiment.