George Harris Smith was born on 23rd August 1890 in Ipstones, Staffs, the son of Hugh (a Copperworks Labourer) and Anne Smith, the third of their seven children.  (1901 Census).  Later the family moved to 7 The Green, Kingsley. (CWGC Records).  As a young teenager George was employed locally as a Collier working for his uncle William Smith.  (Navy Records).
On 16th October 1908, aged 18 yrs, George joined the Royal Navy, Service No:  SS/107831, for a period of 5 + 7 years.  He completing basic training as a Seaman / Stoker at Chatham, Kent, at which that stage he was described as being 5 feet 9 inches tall, with a 36 inch chest and brown hair.  Over the following years he served on several Royal Navy ships.  (Navy Records).
Why a young man from landlocked Kingsley would join the navy is unclear. His family tell the story of an argument with fellow workers as he was getting paid the same rate by his uncle as the older men. To settle the argument he joined up alongside another local Kingsley man whose name was thought to be Bert.
He saw service on several ships including the Formidable between April 1909 and April 1911. It was during this posting that he had a portrait picture taken whilst on leave. It is believe it was taken by Lowndes' in Cheadle High Street.  At the same time he had a picture taken with his sister Mary and a naval friend Fred Cope from Cheadle who was to serve on all the same ships as George prior to the war.
The service record of Frederick Cope shows that like George he was a collier and came from Cheadle. They joined the navy within a week of week of each other. Whether this man is the one referred to as 'Bert' by mistake is unclear. During WW1 Fred Cope saw service on several ships the main one was HMS Sapphire which served in home waters, the Mediterranean and the gulf. He is referred to in one of the Weekly Sentinel articles as being a friend of Arthur Carr another soldier serving from Kingsley. He was demobbed in 1919. (It is hoped to have a photo of the two shortly)
The last time his family saw him was at around the time of the outbreak of war when he left home in the Green and was seeing walking towards Kingsley Moor.
On 2nd August 1914 George Harris Smith was transferred to HMS Hogue, a 12,000 ton armoured cruiser with a crew of 680.  In the early stages of World War 1 HMS Hogue, together HMS Aboukir and HMS Cressey, formed part the 7th Cruiser Squadron deployed in the southern North Sea to protect the British merchant fleet carrying supplies to Expeditionary Force troops in northern Europe.
At 07.00hrs on Tuesday 22nd September 1914 HMS Hogue was deployed to assist the crew of HMS Aboukir which had been struck by a torpedo from a German U Boat and was sinking.  During the rescue HMS Hogue was struck by two torpedoes from the same U Boat and sank within 15 minutes with the loss of the majority of its crew, (including George Harris Smith). HMS Cressey was hit a short time later and also sank.  A total of 1459 crew were lost from all three cruisers causing a public outcry and loss of confidence in the ability of the Royal Navy to protect the merchant fleet.
Although a stoker in the navy at the time of his death according to contemporary press reports he was in charge of the ships magazine.
The Service Record of George Harris Smith is concluded, "Drowned in the North Sea when HMS Hogue was sunk by a German Submarine."  He and other crew members are commemorated on the Chatham Naval Memorial, Chatham, Kent.
One of his brothers John William Smith served with the North Staffordshire Regiment.
A grave stone was erected by the family in St Werbrugh's Church yard near to the stile adjacent to Church Stile Farm – however for reasons unknown it was removed or fell down and is no longer to be seen.
Estelle Cope and her brother George Smith are niece and nephew to George Harris Smith. They reside in the Cheadle area.
They both tell how George's mother had a collage of George's pictures and medals over the mantelpiece of her home.
 George Smith was born on 22nd September and named in remembrance of the uncle he never knew.
 The family have supplied three photos including two of George. One shows him amongst a group of sailors (on the right second row with a clay pipe) The ship name on his cap band and the life preserver has the letters TCHEN – this would appear to be HMS Itchen a River Class destroyer launched in 1903 and sunk on 6th July 1917. This ship does not appear on George's service record but clearly he was on board at some point.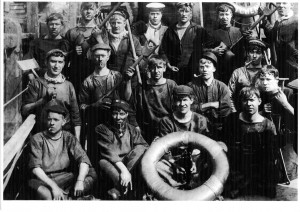 HMS Hogue: