As some of you will have seen in the local newspaper 'All the Kingsley Men' has so far raised in excess of £1200 in donations. We are down to our last dozen books or so with a couple already waiting to go out.
We are delighted that the effort put into writing the book and the research behind it will benefit the current generation of our community. The money raised will be split four ways with equal shares going to Kingsley Village Hall, St Werburgh's Church, Kingsley Royal British Legion and Kingsley Holt Chapel.
The first of the donations saw a cheque presented to Ivor Lucas Chair of Kingsley British Legion at the village hall earlier this week.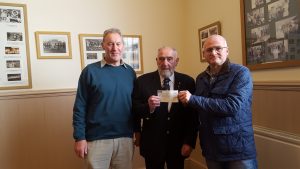 Ivor is pictured with the two authors of the book.
We continue to receive some very kind words about the book and the latest really is worth sharing. It is from a relative of George Wheawall who died in 1917.
She writes 'I've just had a quick look at the book, it's so much more than I expected. Just a wonderful book its made me cry. Thank you so much for your time and effort that you have put into this book. We will treasurer it'
Kind words indeed.
We have also been contacted by a  relative of Charles and Hamlet Hulland and eagerly await any feedback and hopefully some photographs to be included in our second edition which will be an Ebook published in 2018.