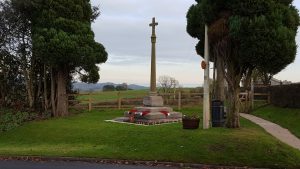 The project continues to make steady progress. The book is now almost complete and at the second proof stage where it will be reviewed by three of the project team to ensure everything is as we would want it to be.
The cover for the book and a provisional title are now complete and we are really pleased with what we have had designed by Andrew Nixon who also took the front cover photo.
We have continued to make fresh discoveries and have met relatives of George Buckett, Alfred Millward and the Harrison brothers from Hollins Lane.  We hope to source photo's to include into the book.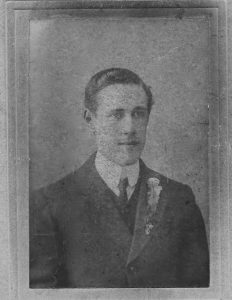 We were thrilled to receive recently photo's of James Henry Wildgoose all the way from America where one of his grandchildren Michael Wildgoose now lives. It is strange to see a photo of a man we have researched for a number of years and often the picture is not how he was imagined in the minds eye.
Remembrance weekend saw, as usual two moving events at the Wayside Cross on Armistice Day and at the plaques in St Werburgh's Church on Sunday.
The Armistice saw children from StWerburgh's school joining local residents to pay their respects to those who lost their lives whilst not forgetting those who served and returned often carrying both physical and mental scars.
Cecil Rogers who  was mentioned for the first time and a Poppy Cross placed with his name on and for the first time since we traced his family James Wildgoose was remembered as he has been since the memorial was unveiled over 90 years ago.
It should not be forgotten that there are three men buried in the Church and who died as a result of their service plus Rowland Beech senior who lies in the family crypt at the church.
Two other men are also remembered on family headstones although they lie in graves in France. Poppy Crosses were placed on these graves as well. It is hope shortly to have a Commonwealth War Graves sign at the gates to the church.
Sunday afternoon saw a small display of the projects work at the village hall where the British Legion held a lunch for the wider parishes poppy sellers and awards were made for long service. Special mention should be made of Mrs Lillian Unwin who was honoured for 60 years of poppy collecting.
A selection of images from the weekend's events can be seen here. (To view the images in a larger size right-click the image and select to view it in your browser – may not work on all systems)