Whilst the website has been quiet of late there has been a lot going on in the background, including the book reaching the draft stage.
We have located another man who was previously unknown – E Whitehurst off the Kingsley Moor plaque. He is  in fact George Ernest Whitehurst. We have located his son and grandson and are grateful for the photographs they have supplied.
We have also located the family of two Harrison brothers from Hollins Lane whose sister married James Millward another survivor.
A great bit of news is that after  over two years' worth of searching we have traced a grandson of James Henry Wildgoose one of the most fascinating of our subjects. He died in 1918 leaving two young sons and we are delighted to have made this breakthrough. We now have more information on how he died and are hopeful of getting to see a picture of him shortly. That research has led to another grandson living California and we are in contact wth him and are learning even more about this most fascinating of subjects.
This last month has seen two notable anniversaries with the centenaries of the deaths of   Arthur Keene and Thomas Clowes  being marked on 12th and 19th of October respectively. Arthur Keene has no known grave and is commemorated on the Thiepval Memorial in France. He is one of 4 men from the parish who died during the Battle of the Somme. We are delighted that our research has been accepted by the the Missing of the Somme Database created by Pam and Ken Ligne who have done a wonderful job of bringing the names of some of the 72,0000 men lost on the Somme and who have no known grave.
We have pictures for all of the men except George Price Bevans. We would love to trace one of him.
We have also updated the entry for William Aubrey Bowers – we are grateful to Levinson Wood Snr (father of the explorer) who has supplied us with a modern day photograph of the site where William was mortally wounded.
During the project, we have researched a number of men who ultimately don't qualify to be included in our forthcoming book as they came to the Parish after the war. One such man is Thomas Swetnam who was born in 1897 near to Croxden. He married Elizabeth Carr in 1923 and lived on Hazles Cross and the Green, Kingsley after his marriage.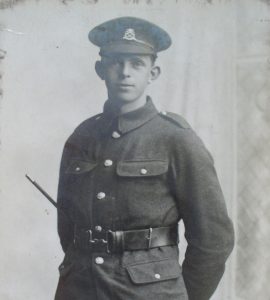 He served with the North Staffordshire Regiment and then the Lancashire Fusiliers with whom  he saw active service with the 1/8th Battalion and 2nd Battalion. Sadly his service record doesn't survive  but the 2nd Battalion saw action in France and 1/8th at Gallipoli, Egypt and the Western Front. After the war, he gained employment at Bolton's and had three children with Elizabeth, Audrey, Joan and Kenneth.  He died in 1968 and is buried in the cemetery at Kingsley. His son, Kenneth lives in Kingsley Holt and we are grateful that he made contact with us and supplied a great picture of his father in uniform. His cap badge is that of the Staffordshire Regiment.
Another such man is  William Spendelow who was born in Longton in 1898 and prior to the war lived in Hulme near to Werrington.  He enlisted in the Royal Garrison Artillery and served extensively in the war. His family have his war diary which he carried with  him during his service. Following the war, William married Emma Mills a local girl in 1929 making their home at 47 High Street Kingsley.  He died in 1960 and is buried in Kingsley Cemetery. His daughter in law, Josie Spendelow lives locally and we are grateful that she made contact with us to share William's story. William's son Jim Spendelow was a well know stalwart of the local British Legion.
Lastly, Remembrance is approaching and there are two acts of Remembrance in the Parish. Firstly, at 11am on the 11th Day of the 11th month, Armistice Day is marked by an act of Remembrance at the War Memorial on Dovedale Road. The memorial is looking fantastic this year so if you have time do come to take part. On Sunday 13th November, Remembrance Sunday is marked at St Werburgh's Church at the plaques inside the church to those who gave their lives.